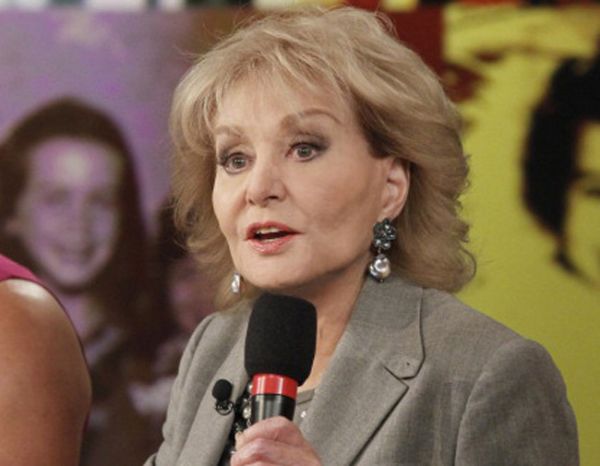 If you didn't think that Barbara Walters was HBIC before, you're going to think it now. The octogenarian (who doesn't look a day over 60) recently had a conversation with Bradley Cooper in which she admitted that she finds the Oscar nominee imminently doable during the sit-down the two shared while taping Walters' yearly "Most Fascinating People" special. Why? Probably because she's more powerful than God and can literally do anything she wants these days. Did you know her vibrator has a name? Because it does.
Vanity Fair reports that the legendary newswoman could barely keep herself together while she and Cooper talked, mainly because he's so gosh-darned attractive. And while the 40-year-old actor (I really thought he was still about 26) didn't exactly shy away from Walters' advances, the exchange may have made him just a teensy bit uncomfortable.
"I could just sit and stare at you but that would take too much time," Walters gushes to Cooper, before raising the stakes. "I find you very screwable. . .I think you're handsome," she says, offering him one last flattering, discomfort-inducing adjective, "I think you're sexy."
How does one even respond to that? Well, if you're Bradley Cooper, star of the world's most erotic sex scene,  you kind of brush it off to the side in as classy a manner as you possibly can. Here's what he said back:
"Thank you," Cooper replies. "I think that I've grown to stop thinking about it. . . . But sometimes I feel better than others. Yeah, I think it has a lot to do with feeling comfortable with yourself.

"And I know that I'm more comfortable with myself than I've ever been in my life," he continues. "So maybe that makes me more attractive."
No report on whether Walters and Cooper are dating now–although, Barbara and Bradley does have a nice ring to it!–but you can see the entire exchange when Walters' special airs tonight on ABC. Unfortunately, while Walters was happy to tell Cooper what she thought of him, she wasn't as open to being honest with Amy Schumer about faking orgasms. "I'm not going to tell you," Walters says before revealing that it's due to her belief that she's dignified.
Unwilling to let this gentle dig go unnoticed, Schumer responds, "I think I'm dignified, I just did a press conference on gun control."
Touché, Amy Schumer! Touché!