Last Updated: February 5th
As CGI found its footing in the '90s, the masses flocked to big-budget spectacles like Titanic and Jurassic Park. But another revolution was unfolding on a smaller scale. We also saw the first films from some of the best indie directors, from Wes Anderson to Quentin Tarantino. Below are 10 of the best '90s movies on Netflix right now, ranked. They range from the '90s-est '90s movies that every millennial grew up watching to the influential award winners that are worth discovering or revisiting.
Related: The Best '90s Movies On Hulu Right Now
1. The Shawshank Redemption (1994)
Run Time: 144 min | IMDb: 9.3/10
There are prestige dramas and then there's The Shawshank Redemption, a thrilling crime saga that set the bar in terms of storytelling. Morgan Freeman and Tim Robbins play convicts who bond during their stints in Shawshank prison. Robbins plays banker Andy Dufresne who's convicted of murdering his wife and her lover. He befriends Red (Freeman) an old-timer who protects him from other gangs while Andy begins helping the prison's warden launder money. Eventually, Andy decides to break out of prison and what results is one of the more exciting escape stories we've seen on screen.
2. Goodfellas (1990)
Run Time: 146 min | IMDb: 8.7/10
Robert De Niro and Ray Liotta star in this crime drama from the always reliable Martin Scorcese. Liotta plays Henry Hill, a young kid enamored with the life of crime who eventually works his way up the ranks to become a certified bad guy. He reaps the rewards: money, cars, women, a ton of nose candy, but his life soon spirals out of control when his friends turn on him, the authorities close in on his business, and his drug addiction begins to feed his paranoia.
3. Rounders (1998)
Run Time: 121 min | IMDb: 7.3/10
Matt Damon and Edward Norton star in this forgotten '90s crime drama about a reformed gambler who returns to the table to pay off a large debt while trying to juggle a new relationship and law school. Damon plays the talented card-shark and Norton plays his fresh-out-of-prison bestie who upends his life and gets him back in the game. The two outrun mobsters and lawmen, getting into dangerous situations and ruining their respective lives along the way. It's a hell of a fun watch.
4. Groundhog Day (1993)
Run Time: 101 min | IMDb: 8/10
Bill Murray has some great comedies living on his resumé, but none are as iconic, or at least, well-loved as Groundhog Day. That's because watching Murray play a surly weather-man forced to relive the same day over and over again is basically a comedy goldmine of a plot. At first, Phil (Murray) enjoys the time loop, binge-drinking, filming some half-hearted news segments in a hick town in Pennsylvania, having one-night stands, etc, but eventually, he realizes that in order to escape his never-ending bed-and-breakfast hell, he's got to better himself, not an easy task.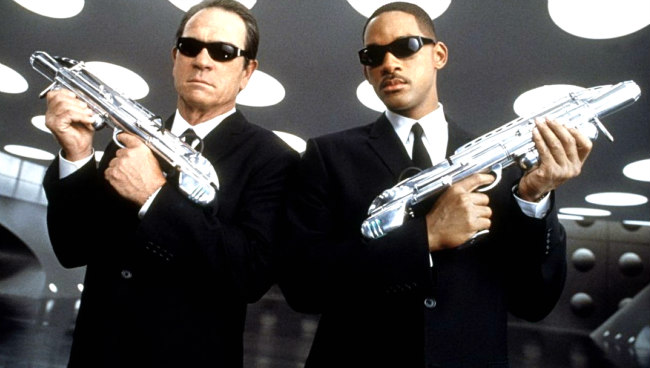 5. Men In Black (1997)
Run Time: 98 min | IMDb: 7.3/10
We should all hail the casting genius who threw Will Smith and Tommy Lee Jones together in this sci-fi action flick about a police officer who joins a secret government organization in charge of monitoring extraterrestrial activity on Earth. That's because the two bros – Smith, the wise-cracking rookie, and Jones, the seasoned veteran – have an almost otherworldly kind of chemistry on screen. Watching them bicker like an old married couple is almost more fun than witnessing them take down alien monsters intent on subjugating our planet.
6. Bad Boys (1995)
Run Time: 119 min | IMDb: 6.9/10
Will Smith and Martin Lawrence star in this foul-mouthed buddy comedy film as two detectives tasked with protecting a witness while investigating a case of stolen heroin from their own precinct's evidence storage facility. Marcus (Lawrence) and Mike (Smith) have been friends since childhood and are now working the beat together in Miami. When $100 million of heroin goes missing from their unit's storage facility, they're sent to track down who might have taken it before Internal Affairs intercedes. Smith and Lawrence have an easy, lived-in chemistry that really sells this thing, and the action's not too bad either.
7. Kingpin (1996)
Run Time: 114 min | IMDb: 6.9/10
Kingpin is the kind of movie that could only be made in the '90s. The absurdist comedy stars Woody Harrelson as a washed-up pro-bowler who lost his arm in a fight. Years later, he's given the chance to face off against his nemesis by coaching a talented Amish kid who happens to be a bowling prodigy. The two have to navigate crime bosses and groupies with ulterior motives to compete in a tournament with a cash prize of $1 million. Harrelson is terrific as always, but just check your brain at the door with this one.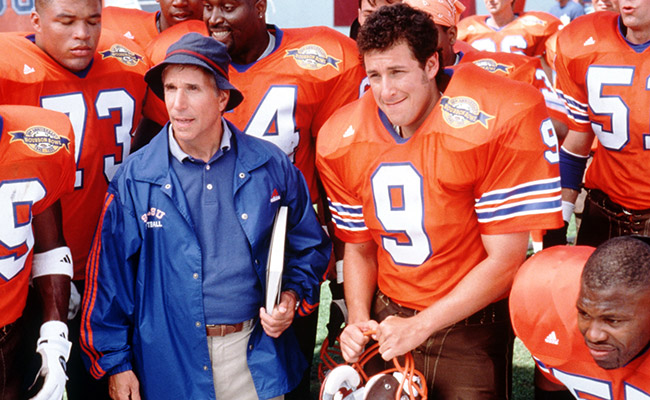 8. The Waterboy (1998)
Run Time: 89 min | IMDb: 6.1/10
Remember when we used to like Adam Sandler? Sure, his comedies were never high art, but you still find yourself quoting them to this very day. The Waterboy is the classic example of this comfortable familiarity. Sandler mugs his way through his performance as a football team's waterboy who gets a shot at playing due to his ability to channel his rage into unexpected prowess on the field, and you'll find yourself cocooned in the welcoming embrace of '90s nostalgia.
9. The Craft (1996)
Run Time: 101 min | IMDb: 6.3/10
Robin Tunney and Neve Campbell star in this cult classic about a group of teenage girls who use their burgeoning powers to cause all kinds of trouble. Tunney plays Sarah, the new kid at a Catholic prep school who falls in with a trio of outcasts led by Nancy (a deliciously unhinged Fairuza Balk). The girls are witches, and Sarah's latent abilities make the spells they cast even more powerful. Hexing the popular kids, brewing love potions, and summoning Satan soon follow before Sarah realizes Nancy's brand of occult just isn't for her.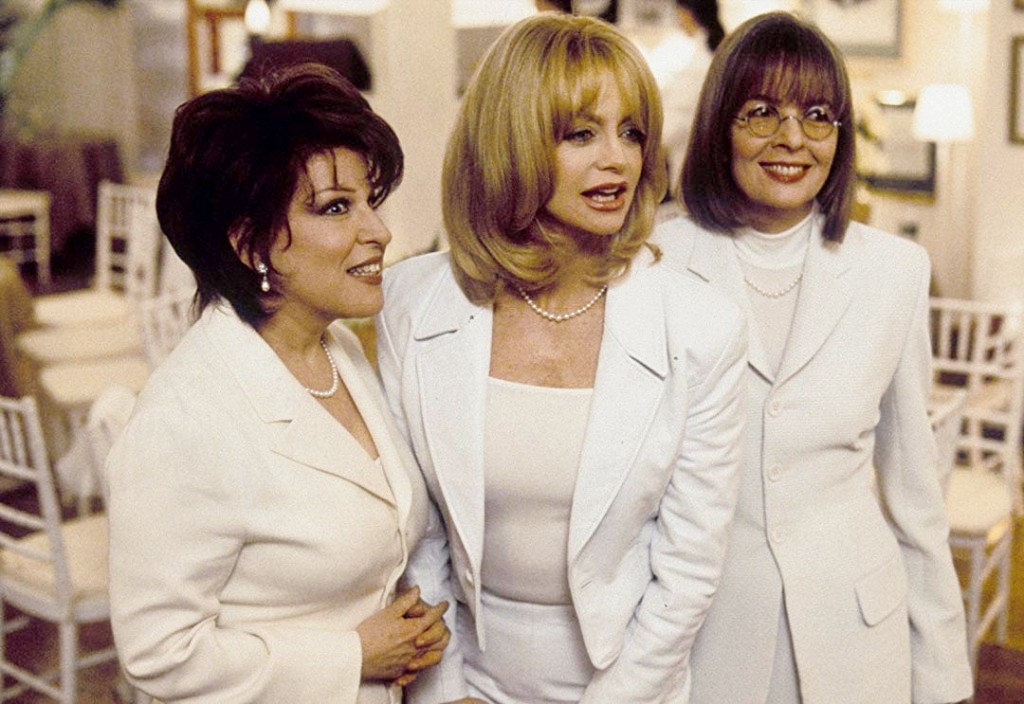 10. The First Wives Club (1996)
Run Time: 103 min | IMDb: 6.4/10
Bette Midler, Goldie Hawn, and Diane Keaton star in this hilarious revenge comedy about a trio of divorcees who decide to get even with their dirtbag ex-husbands. Keaton plays an advertising exec hoping to reconcile with her partner, Hawn plays an aging actress fighting a nasty alimony suit, and Midler's Brenda is devastated to learn her husband is keeping a much younger mistress. All three women devise plans to make their husbands pay for their crimes in increasingly comical ways, but it's the film's empowering musical finale that really makes it worth a watch.
Recent Changes Through March 2020:
Removed: Primal Fear, The Matrix, Trainspotting
Added: Groundhog Day, Goodfellas, The Shawshank Redemption