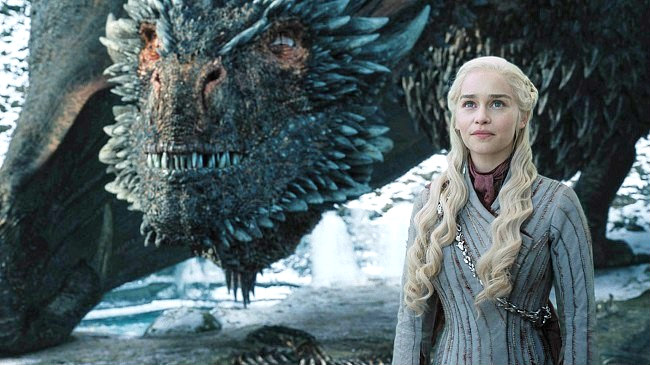 This post contains spoilers for Game Of Thrones Season 8 Episode 5 "The Bells".
Game Of Thrones brought some long-awaited confrontations to its penultimate episode, "The Bells," which ended with King's Landing laid to waste by possible mad queen Daenerys with the help of — to quote Missandei — "Dracarys."
As always, fans of the show were livetweeting their thoughts, and some of those tweets were funny. For example, people continue to demand justice for Ghost, who reportedly couldn't get a single goodbye pat on the head from Jon Snow because the CGI wouldn't have worked out:
Speaking of Jon watching the destruction, people had thoughts about Varys being right:
Daenerys was the target of most of the jokes this episode:
To be fair, that coffee cup wasn't the biggest flub in Game of Thrones history:
To also be fair, people who've been paying attention to Dany's past knew she was hardcore:
And the destruction of King's Landing gives Arya a good reason to update the kill list.
Cleganebowl finally happened. It was a tie. ¯\_(ツ)_/¯
R.I.P. The Hound. Also, R.I.P. Jaime:
People said R.I.P. about some other things, too:
The complaints didn't stop there. You may be surprised to hear that people on the internet like to kvetch about TV shows:
You just can't please some people.
BEST SEASON EVER.