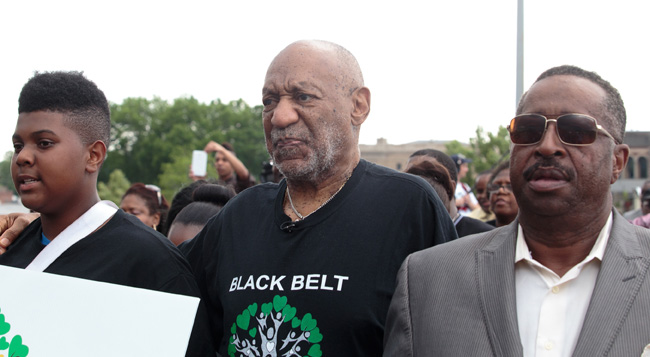 Bill Cosby is going back under oath regarding his alleged past sexual misconduct, meaning we might be in for some major changes in the Cosby case come October. That's when the comedian and television legend will head back to court to provide a deposition in the ongoing case of Judy Huth, the woman who alleges Cosby sexually assaulted her in a bedroom at the Playboy mansion and forced the LAPD to reopen an investigation into the incident at the tail end of last year.
The deposition will be related to the civil suit brought by Huth, according to Vulture, and it comes after the Los Angeles County judge overseeing the case denied Cosby's lawyer's request that Huth be deposed before Cosby. Huth's lawyer, Gloria Allred, released a statement celebrating the judge's decision and announcing the date of Cosby's deposition:
"We are pleased that we will now be able to move ahead without further delay on Ms. Huth's case and we look forward to taking Mr. Cosby's deposition on October 9, 2015."
Huth's deposition will follow on Oct. 15. The request for Huth to begin the events came after Cosby was scheduled to give his deposition in June, an appointment that Cosby skipped out on. It seems that he won't be able to skip out on this, possibly meaning we will get plenty of information to come if the case ends up in trial.