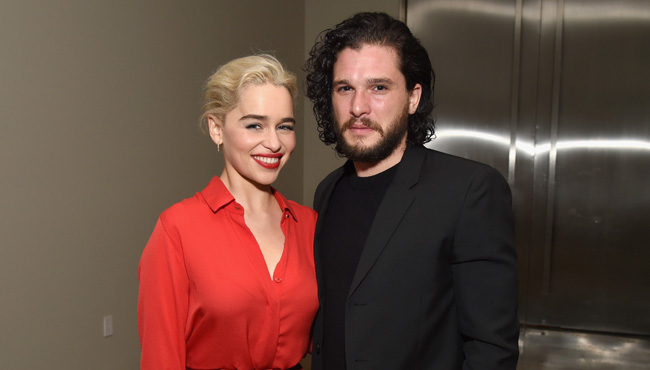 Sean Penn's annual silent auction gala for Haiti was on Saturday night in Los Angeles. In between the praise for Penn, particularly in a speech by Leonardo DiCaprio that took a few shots at President Trump, the gala also gave us a chance to see just how much Brad Pitt loves Game Of Thrones. Or how much he loves the stars of Game Of Thrones.
One of the items to bid on during the auction turned out to be a chance to watch an episode of the HBO series with Emilia Clarke. Kit Harington was also in attendance, but uninvolved in the auction when the bidding first started according to Variety:
The auction to watch the episode with Clarke started at $20,000, but the race quickly escalated. At one point, the auctioneer yelled out "Is the King of the North here?!" But as it turned out, Harington had stepped out of the gala to go to the restroom.

Meanwhile, Pitt bid $80,000 to watch an episode of "GOT" with Clarke. Then he outbid himself to $90,000. When Harington came back into the room, the actor offered to also sit in on the episode viewing. And that's when Pitt raised his own bid to $120,000.
Pitt didn't win out in the end, getting outbid at $160,000 to end the auction. It all goes to charity, though, with the money raised going to the J/P HRO & Disaster Relief Organizations for Haiti. Several other major names were in attendance, including Arnold Schwarzenegger, but the biggest name might've been DiCaprio who received an honor for his work on climate change according to Variety:
The biggest challenge now is to make sure that everyone understands what's at stake," DiCaprio said of the dangers of climate change during his speech onstage at the gala…

"But how can we do this when we have a president who, just this week, proposed a massive increase in offshore drilling?" Garnering laughter from the room, DiCaprio quipped, "Their denial of so much of the scientific proof and evidence belongs in 'the Earth is flat' chapter of human history."
He finished his speech by adding that we should "never doubt that a small group of thoughtful citizens can change the world," returning some praise to Penn in the process. And according to Variety, he had his own run-in with Clarke while bidding on a painting by artist Josh Smith — losing out to the Mother of Dragons.
(Via Variety)