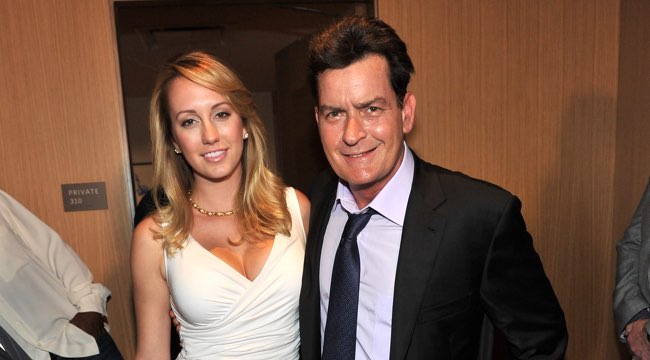 After Charlie Sheen's Today show revelation about being HIV-positive, some of his ex-lovers angrily spoke out about how they felt he risked their lives. Bree Olsen (one of Sheen's goddesses during his 2011 meltdown) denied his claims that he'd revealed all to his "inner circle" years ago. Olsen said Sheen told her he was clean, so they did not use latex condoms. She was upset, especially because Sheen's disclosure placed his HIV diagnosis four years ago when they were together. Likewise, former co-star Jenny McCarthy was furious at Sheen for not being "upfront" with her, although McCarthy's unfortunate followup comments didn't win her any new fans.
Over the last few days, the media circus between Sheen and his ex-fiancée, Brett Rossi, has grown ugly. Us Weekly has a full roundup of claims between the two, which began with TMZ's report of Rossi's claims that she became pregnant with Sheen's child. She says they had sex "like a normal couple" after he revealed his HIV status. She also alleges that he forced her to have an abortion and became violent. Sheen claims Rossi was never pregnant.
Rossi has filed a lawsuit against Sheen, claiming he falsely imprisoned her. The suit also alleges Sheen was abusive, took crack cocaine, and "wanted to murder people that he was angry with." However, Us Weekly has seen countersuit papers filed by Sheen, who says Rossi threatened to expose his HIV status: "This is a case by an extortionist … who gets paid for sex as a prostitute and a porn star." Sheen also denies attacking Rossi. He says she was the one who would "become belligerent and even violent." Rossi isn't done, though. She spoke out on Opie Radio with allegations that Sheen plotted to kill her estranged husband:

"He had told me that he wanted to kill my ex-husband. At first when he told me, I was like, 'Whatever, it's just Charlie being upset.' You guys have seen the rants, so I didn't take him serious, and so a week later, I saw the text messages between him and a friend of his … essentially trying to coordinate a hit on my ex-husband."
Rossi maintains that she confronted Sheen's friend about the texts. Then Sheen allegedly threatened to tell police how she coordinated the hit, and no one would believe her. Rossi continued:
"A week later, my ex-husband texted messages me a photo from his security cameras at 11:30 at night of a guy with a ski mask, gloves, and a box that looked like there was some type of weapon in there."
Opie asked Rossi for screenshot proof of Sheen's text messages, which she did not produce. The truth in this situation remains nebulous, and lawsuits are currently pending, so it will be awhile before this conflict ends. Here's a video clip of Rossi speaking with Opie Radio.
(Via Us Weekly, TMZ, Hollywood Reporter & Opie Radio)
Now Watch: Reactions To Charlie Sheen's HIV Announcement