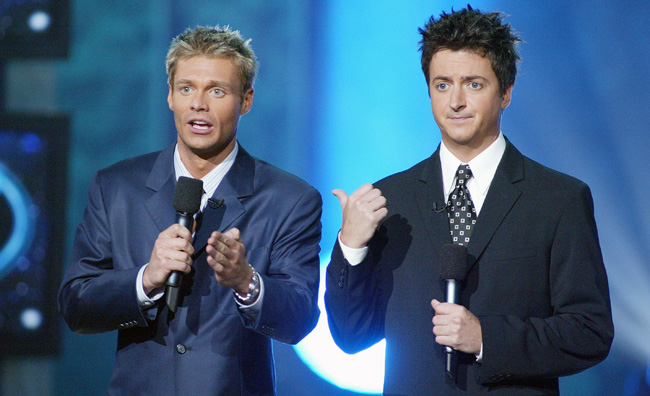 Once upon a time, Fox launched a brand new singing reality competition show co-hosted by two fresh-faced relative unknowns at the time, Ryan Seacrest and Brian Dunkleman. In the 14 years since American Idol debuted, Ryan Seacrest has built a veritable empire off of his Idol notoriety, going on to become a successful producer and radio host, forming his own production company with the E! network, Ryan Seacrest Productions.
Dunkleman on the other hand… Well, Dunkleman really schlonged it. Dunkleman left the reality juggernaut after just one season to focus on his acting career, leaving many to speculate if he had been fired. After that, the high point in Dunkleman's career was making an appearance on Celebrity Fit Club: Boot Camp in 2008, where he lost 15 pounds and won the grand prize for his team, alongside Dustin Diamond.
Ouch. It's reasonable to think that the Dunk might harbor some misgivings after having walked away from Idol, as he even told Howard Stern in 2008 that he had made a mistake and harbored resentment against the much more successful Seacrest.
With Idol now entering its last season, Dunkleman said in a recent interview however that he's come to terms with the past and that he's no longer angry about what happened.
"I was very upset about it for a long, long time," Dunkleman, 44, who calls himself a "television history footnote" on his Twitter bio, recently said. "You got to make up your mind that either you are going to be that angry guy for the rest of your life, or you gotta move on. It's taken me a long time to get there."
When asked if he has any regrets, Dunkleman also says that no, he does not.
"I know it seems like such an easy question, but it's not an easy answer for me because there are so many variables," he said. "I don't even know who I would be if I was still on that show. … I knew that if I had stayed, I wouldn't have had a chance (to pursue acting)."
Except that there are kind of regrets.
"Of course, when it comes to the financial aspect, of course there are regrets. I wouldn't be human if I said no," he said.
For what it's worth, he saved himself years of getting ripped on by Joel McHale on The Soup — which also just ended its television run — so at least that's something. For all his wealth and influence, you know Seacrest had to have suffered sleepless nights every time the guy from Community made a mean joke about him.