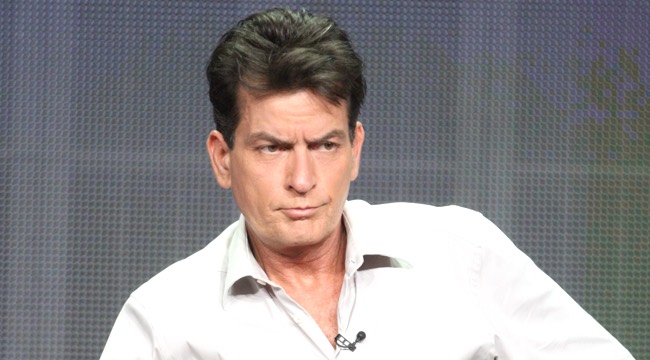 On Monday morning, Charlie Sheen became the subject of a widespread report, which speculated that he was HIV positive. This report followed a blind item about an A-list actor whose wild lifestyle caught up with him a few years ago. The actor had allegedly kept his HIV-positive status under wraps, which left his many ex-girlfriends in a fretful state. The actor was also stated to be a well-known "lothario" who was worried that his health status would overshadow his career.
Many people guessed that Sheen was the subject of this blind item. When Sheen was scheduled to make a special announcement on Tuesday's episode of Today, the rumor reignited. Of course, all of this could be mere coincidence. Sheen could show up on Today and announce anything.
However, a new TMZ update says the report is real, but Sheen says his "blood is HIV free." His alleged plan for Today is to speak about how "he beat the disease because it's undetectable in his system." The report further states that Sheen has known about his HIV-positive status for at least two years, but his medication regimen has rendered the virus "undetectable" in his blood. The report further holds that "Charlie is saying he didn't deceive anyone, since the blood tests did not reveal the presence of HIV."
In addition, a source close to Sheen's ex-wife, Denise Richards, says the actress has reportedly known about Sheen's health status for years and kept his secret. The source also stresses that Richards and Sheen have "not been intimate" since their 2006 divorce.
We'll have to wait and see what Sheen says on Tuesday's episode of Today.
Now Watch: Charlie Sheen's Relationships You May Have Forgotten About
(Via TMZ, Access Hollywood & New York Post)