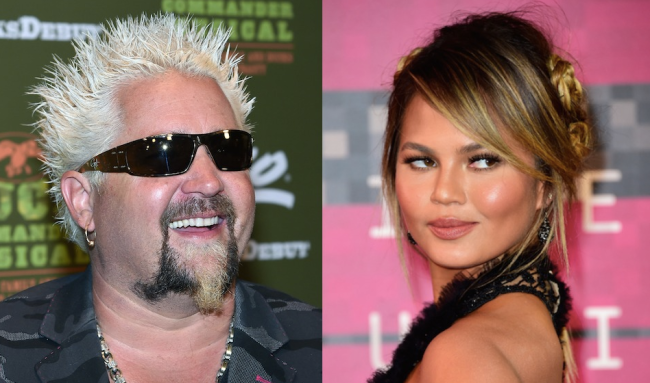 Spirit.com has an entire section of its website dedicated to "HORROR WOMENS COSTUMES." The top-seller is "Skelebones Adult Womens Costume," followed by "Day of the Dead," "Plus Size Sorceress Witch," and "Haunting Beauty." If you scroll down, you'll see more witches, vampires, and high school zombies. Weirdly, and disappointingly, they don't have the most terrifying costume of all… human semi-truck mud flap Guy Fieri.
Want to be really scared? Take a look at this.
That's Chrissy Teigen — drunk first pitch-throwing, topless KFC-eating, one half of the best couple on Instagram, goofy weather forecaster Tiegen — dressed up as the Food Network "personality," in an apparent attempt to make sure you're never attracted to her again. Actually, it's for an episode of FABLife, Tyra Banks' syndicated talk show, but really, it's because Teigen and John Legend want to terrify local children so that they refuse to trick or treat at their home. More candy for them, which they will then eat naked in bed (hopefully with the Fieri hair still on) and earn a million Instagram likes.
Urban legend has it that if you say "Chrissy Fieri" three times in a row, a ghost sprays donkey sauce on you.
Now Watch: What Will Heidi Klum Wear This Year?