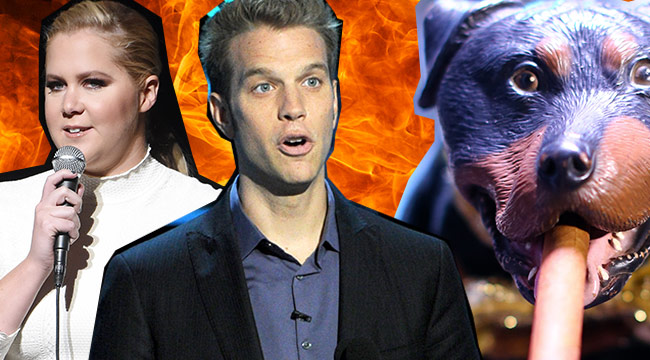 There are few times in life when it's okay to absolutely destroy someone verbally. A political attack ad, a rap beef or really any talk show on Fox. Roasts are also one of those times. Some seriously degrading sh*t has been said on roast podiums that would otherwise inspire fist fights. And it's all in the name of "roasting the ones we love."
Well, that's the justification, at least.
No doubt why comedy roasts were invented — for comedians to redirect anger, resentment and palpable disdain into an entertaining format. Whereas the new truTV show Comedy Knockout showcases all sorts of talented, up-and-coming comics skewering all sorts of things, some legendary comics have exuded enough hate to earn their place on the Mount Rushmore of Mean.
But who are today's top offenders? To reward your curiosity, we've taken the liberty of ranking the comics who we would never want on our roast dais due to their mastery of the putdown.
7) Triumph the Insult Comic Dog
Triumph makes the list for the sheer fact that it would be humiliating to be roasted by a puppet. Under normal circumstances, that sounds cute. But when that puppet is Triumph, the cigar-smoking insult-comic dog, all cute bets are off. The Robert Smigel-voiced Triumph has taken aim at all sorts of people over the years — usually celebs — "pooping on them" with a style reminiscent of the Dean Martin roasts of yesteryear. A putdown by this pooch would be particularly ruff.

6) Whitney Cummings
Say what you will about Whitney Cummings' stand-up, she comes off like the Homecoming Queen of Mean — unafraid to say anything that could be perceived as even in the vicinity of poor taste. Cummings lets people have it in impressive ways. She hits you hard. Don't believe it? She once said that Robin Quivers has "f*cked so many white guys… Abercrombie & Fitch took out ad space on her taint." 'Nuff said.
5) Amy Schumer
She's probably too big a star now to show up on your roast dais (Inside Amy Schumer, Trainwreck, et al), but if she does appear, you're done. On her ascent to becoming a box-office draw, there was this breakthrough performance as a relative unknown at Charlie Sheen's roast, where Seth MacFarlane introduced her as the "fourth runner up of the fifth season of Last Comic Standing." She even goes after Mike Tyson with furious combo in this clip. Talk about a comedy knockout.

4) Lisa Lampanelli
Nobody yells jokes better than Lisa Lampanelli. As a mainstay of the roast world for the last 15 years, she spits vitriol like a machine gun. She once roasted the now-GOP frontrunner Donald Trump with a particularly salty, "You've disappointed more women than Sex and the City 2," and, "You've put up more worthless hotels than an autistic kid playing Monopoly." Ouch.
3) Anthony Jeselnik
[protected-iframe id="18e5a15fa41eed976df17f06a7d2c00b-60970621-96996391″ info="http://www.ebaumsworld.com/player.swf" width="567″ height="345″]
Of all the incredibly offensive things that have come out of comedians' mouths, the most cringe-worthy ones have probably all come out of Anthony Jeselnik's. He has a way of making people make that pained face where you can tell that they're not sure if they should laugh or not. He once told Mike Sorrentino, a.k.a. "The Situation" that if he, "spent as much time reading books as you do chasing skanks, you probably wouldn't have AIDS." Proof he belongs on this list… and maybe at the table moderating the next GOP debate.

2) Don Rickles
Nobody epitomizes the phrase "grumpy old man" like Rickles. As one of the original insult comics, "Rickles," as he's known affectionately in the comedy world, has not met a person he couldn't assail. It started in the '50s when he was lighting up people like Frank Sinatra and continues to this day. The thing about Rickles is he's able to convey an underlying current of affection for the subjects he's taking down. Which makes him… endearing… even as he picks you apart one flaw at a time. It would be a great honor to get annihilated by Rickles — but there would be pain. Serious pain.
1) Jeffrey Ross
Tops on this list has to be the "Roastmaster General" himself, Jeffrey Ross. The insult-comic extraordinaire has written for and performed in most of the roasts you've seen on TV over the last decade including those of Justin Bieber, Hugh Hefner, and Donald Trump. Ross also coined the phrase "speed roast" (demonstrated in the clip above) and once even roasted Texas prisoners.
When it comes to destroying people, Jeff Ross is in a league of his own. His brand of curmudgeonly hate strikes the perfect balance between wit and below-the-belt hit. Everybody's scared when Ross is in the room and no one is spared. Even Betty White got it. Sure, it was her roast, but about White, Ross said, "Betty is the only person who truly saw Titanic in 3-D." Awesome.

Honorable Mention Goes To… The Late Greg Giraldo
A spot has been left here for the late Greg Giraldo, who always took crap from other comics because roast appearances seemed to be his only job — right before he took the podium and destroyed nearly everyone within earshot. Giraldo once told Tommy Lee at the Pamela Anderson roast that up until their sex tape, he'd "never watched anyone get gonorrhea before." First-ballot Hall of Fame roaster extraordinaire.
See more epic comedy takedowns when truTV's 'Comedy Knockout' premieres on Thursday, April 21 at 10:30/9:30c.