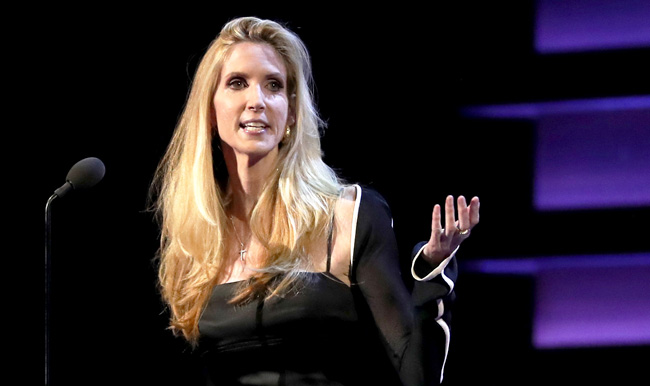 Comedy Central is defending and clarifying its decision to include controversial political pundit Ann Coulter on its roster of celebrity jokesters for the network's recent roast of Rob Lowe. Network president Kent Alterman said during an interview that Coulter was offered the opportunity for the same reasons as anyone else, describing that decision as an "intersection of mutual interests." One of those "interests" is usually publicity; Coulter's new book, In Trump We Trust, was released in August.
Even though Rob Lowe, the night's guest of honor, was meant to receive the brunt of the routinely savage punchlines, Coulter felt she became the night's principal target, telling The Hollywood Reporter that she had "no idea" why she was extended an invitation in the first place. And as to why her comedic takedown seemed the most vicious, she says it likely is resultant of "Comedy Central's corporate decision to move away from comedy." Alterman rebuked that theory, insisting that "everyone is a target" during roasts and that Coulter "wasn't singled out in that regard." He added that the conservative political commentator was not prevented from "watching any roasts," implying that Coulter's possible ignorance about the program's format was her own fault.
One of the series' most seasoned jokesters, Jeff Ross, also dismissed Coulter's claims, explaining she was compensated for her appearance and is "full of sh*t" for representing the situation otherwise.