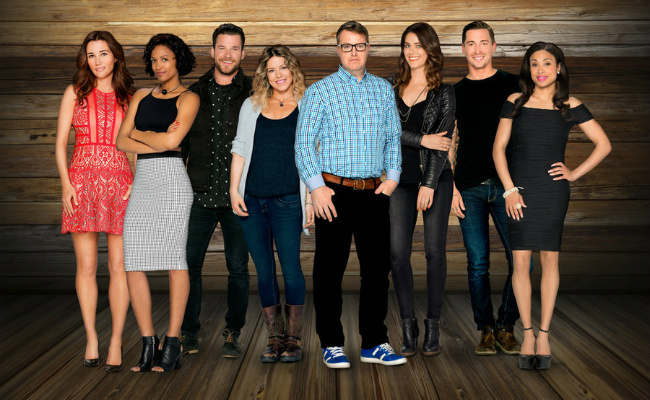 Bravo has once again taken a semi-obscure white-collar job that has some involvement with rich people, decided to film a half-dozen people who do this job, and turned it into a half-decent reality television show. Aprés Ski, which focuses on millionaire Joey Gibbons' new concierge company at the Whistler Blackcomb ski resort in British Columbia, is nothing groundbreaking when it comes to Bravo's particular brand of television. Gibbons Life is a "startup" concierge service aimed at ensuring the rich and glamorous have a one-of-a-kind experience while vacationing at Whistler. Think of a mix between the Real Housewives franchise, The Real World, and a dash of Vanderpump Rules and you get the general gist.
Watching concierges plan vacations and outings for the designer-clad upper crust might not quite do the trick drama-wise, but Aprés Ski mixes in the added fun of making all the concierges live in the same house together. It's a decision obviously made for the benefit of the show, but there's no judgement here as it will probably produce the best sound bites throughout the season. Charlotte, Jim, Kendra, Elise, Bobby, and Lynsey might not be as crazy or entertaining as some other casts of Bravo shows, but guessing from the premiere, that doesn't mean Aprés Ski can't be just as sneakily humorous. Below you'll find the five most ridiculous moments from the first episode.
As the team is being introduced, the Operations Manager for Gibbons Life, Elise, asks the standard question most bosses do upon first gathering a group of employees: What is your biggest weakness? Team member Kendra quickly answers "archery." The immediate reaction is that she is clearly lightening the mood by being funny. But I think there's another layer to this; namely that she is a spy working at Whistler to infiltrate the social circle and carry out international espionage. She might be a perfect shot and a master of disguise, but archery has always been her greatest weakness. It checks out!
In the same meeting, team member Charlotte describes Kendra as having "PR lotion rubbed all over her." There's a lot to unpack here. Does she use this phrase to describe other things? Why lotion? Has she ever said this out loud to somebody and not just to a camera? Is this a sign of a secret lotion fetish? Charlotte is probably the weakest member of the team, but if she keeps delivering soundbites this weird she may yet prove her worth.
Bobby, the only gay team member, is possibly the most hilarious of the bunch. Jim, the only other guy, is hot beyond belief. So naturally Bobby's thirst is palpable. So upon moving into the house Bobby of course acknowledges that Jim isn't "convertible, but maybe like… four beers in." What I'm saying is keep one eye on Bobby whenever he's in a room with Jim because this through line of attraction doesn't look like it will peter out anytime soon.
Charlotte, the aforementioned weakest team member, has a boyfriend of five years back at home. This detail is surely being included to set up a "cheating or flirting with someone else" episode down the line, but the most important part of her talking about him is that she says his name is "Deej." Deej! There are a lot of ways this could go but either way it makes him sound like the broest bro out there. Is his name actually DJ and everyone calls him Deej? Is it actually spelt Deej? Or Diej? Or Diege? I want an entire spinoff called My Name Is Deej. What a way to start life out behind the eight ball.
Four words: Butlers. In. The. Buff. This is apparently something that not only exists but does good business in Canada. Congratulations on whoever thought of having butlers wear nothing but a branded apron while serving food. In this episode, the butler has to serve food outside in the buff which seems like cruel and unusual treatment during a Canadian winter. That being said, it immediately made watching the ultra-vanilla Jim and Lynsey organize a day out for their guest much better. More of the partial nudity, less of the ski bums in toques innocently yet annoyingly flirting by barking like dogs. Please and thank you, Bravo!