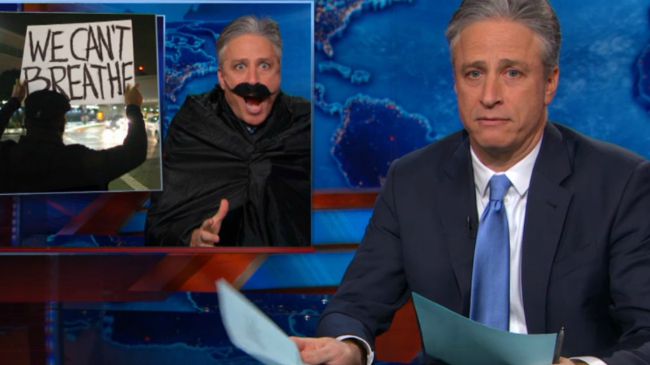 This is more than a beloved comedian leaving the stage. David Letterman meant so much to the world of comedy, but Jon Stewart's impact belongs to the world, even if his legacy is one of enhancing the debate more than it is one of impactful change.
The guy who made us laugh, made us think, and served as our anger and outrage avatar while telling truth to power and anyone else who would listen, Stewart built a check against the imbalance of the press and the powerful on the foundation of what Lizz Winstead and Madeline Smithberg created in 1996. A check that Trevor Noah hasn't been given power over, but one that he has been entrusted with.
For 16 years, Jon Stewart was there, but tonight he signs off and we are left with only our memories of his unsurpassable run and the incalculable impact of his presence. So, in an effort to cope, we're going to share our favorite memories, you're going to share yours in the comments, and nobody is going to eat pizza with a f*cking knife and fork!
I'll get things started with…
"It's Not A F*ckin Game!" 
In the midst of the financial crisis, perceived victims — the long-term unemployed and the foreclosed upon — suddenly became targets for animosity, specifically by Rick Santelli, who went on CNBC to deliver a harsh takedown against borrowers in need of a bailout. A rant that infuriated Stewart, who set his sights on the financial news network and their personnel, most notably Jim Cramer, who Stewart invited to his studio for an interview that turned into an interrogation. The highlight? Stewart voicing the frustration of millions of Americans by reminding the financial market's most excitable cheerleader that playing with people's life savings and retirement funds wasn't, "a f*cking game." A hollow victory by one TV rich guy against another that did little to better anyone's situation, but a victory all the same. – Jason Tabrys
Class Warfare
It was sometime around 2010-2011 when I get the feeling that Jon Stewart's comedic frustration with politics in America grew into actual anger. Exposing the same fallacies year after year and not seeing any actual change (in fact, seeing just the opposite) almost seemed to transform Jon Stewart. In a way, that anger gave him a second wind. I like to point to this segment on Class Warfare during a non-election year that prompted the beginning of that second wind. In it, he expresses frustration with the Republican's desire to fix the deficit by increasing taxes on the "poor, or the bottom 50 percent who control a whopping 2.5 percent of America's wealth. But don't worry about the poor, Republicans say. "Ninety-nine percent of them have refrigerators! You food-chilling motherf*ckers! How dare you!" – Dustin Rowles

Malala Yousafazi
I love Jon Stewarts takedowns as much as the next person, but when he allows himself to be wowed by one of his guests, he proves himself to be one of us, which is what makes us love him. The best example that I can remember is his interview with Malala Yousafazi. He starts off with saying that nothing makes him feel better than making her laugh, which, in any other situation, might sound like he's being a dirty old man if he wasn't so obviously humbled by receiving such validation from an amazing young woman. He's in awe of her, and his own fatherhood clearly plays into how impressed he is by her. He also lets Malala tell her story, which has always been his greatest talent, making his guests look good instead of him. (Which is, I should say, one of the first things you learn in comedy — making your scene partner look good.) Jon Stewart is a fantastically unselfish interviewer, and this was a prime example. That's what I'll miss. – Jamie Frevele
The Town
In 2011, House Majority Kevin Leader McCarthy showed fellow House Republicans a questionable scene from the violent crime drama The Town to rally their support for House Speaker John Boehner's proposed debt ceiling bill. Stewart starts by perfectly addressing the outright absurdity of it all, while trying to dissect its intended metaphor, adding "I'm gonna assume the whole Tea Party coalition has not seen the movie." Following it up with Senator Chuck Schumer's response, which he appropriately dubs "Chuck Schumer's meshuganah movie movie breakdown show." It's a run-of-the-mill moment that showcases Stewart in top form, skewering everyone involved with comedic precision. – Christian Long
The Curious Case Of Flight 370
It's been over a year since the tragic disappearance of Malaysia Airlines Flight 370 and not much progress has been made in the way of answers – but that's not for CNN's lack of trying, and trying, and speculating, and trying. Cue Stewart. Jon left the actual "coverage" to CNN, and instead covered their over-coverage (got that?). CNN really took it to a ridiculous level, quickly running out of actual facts to report so instead relying on things like fake airplanes and even holographic airplanes. "Oh shit we've got 23 hours and 59 minutes left to fill… and they did," Stewart summarizes in the clip. He really lets it rip when the show's anchors launch into lengthy far-fetched segments. How long can one possibly discuss a black hole as a viable option for a missing aircraft? Long.