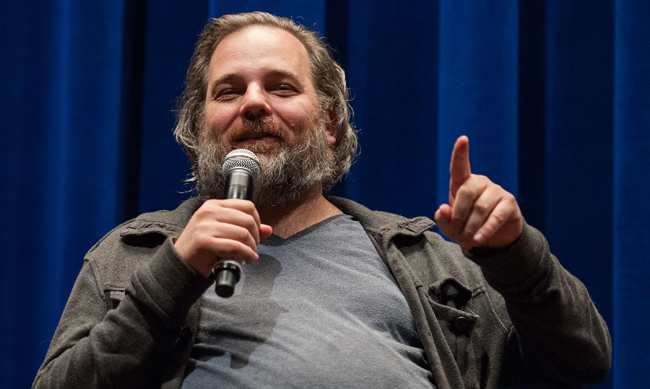 The only thing we know for sure about the future of Community, apparently, is that no one knows the future Community. There's a movie but no more show, there might be more show, there's going to be a movie but it will be on Yahoo, etc. You know, classic Community. But whatever the result there, creator Dan Harmon is keeping himself pretty busy. There's Rick & Morty, and his Harmontown podcast, and now, as per a press release from IFC, a new current-events panel show that sounds like the best kind of weird you can imagine.
Here's the description of the pilot:
Great Minds is a comedic panel show hosted by Dan Harmon that tackles trending topics with a twist: each episode features a revolving cast of comedians in character as history's "greatest minds." The pilot guest panel features Benjamin Franklin (Rory Albanese, The Daily Show with Jon Stewart), Albert Einstein (Robert Smigel, SNL), Eleanor Roosevelt (Bonnie McFarlane, Women Aren't Funny) and Frederick Douglass (Seaton Smith, Mulaney). The show is created by Richard Korson (The Daily Show with Jon Stewart), produced by Matador and executive produced by Korson, Harmon, Jay Peterson and Kara Welker.
In addition to the Harmon show, IFC also ordered panel/talk-type pilots starring Jim Norton and former Nikki & Sara Live host Sara Schaefer.
IFC is also shooting an untitled half-hour, late-night talk show hosted by comedian Jim Norton. In his signature acerbic style, Norton will share lively banter and unfiltered viewpoints with today's top entertainers from comedy, TV, movies, music, film and culture. Matador produces the series with Norton and Suzanne Fagel (Totally Biased with W. Kamau Bell) executive producing.

Created and helmed by Sara Schaefer, 1320 Seconds is a satirical news-magazine show featuring an ensemble of female correspondents (plus one man to make everyone feel OK about this dangerous concept) who investigate and comment on the cultural zeitgeist. The show is executive-produced by Schaefer and Jon Zimelis, Jason Nadler and Alex Blagg of Serious Business.
No clue yet if any of the pilots will stick, or even be good, but it certainly seems like an interesting play from IFC.
(Via Splitsider)