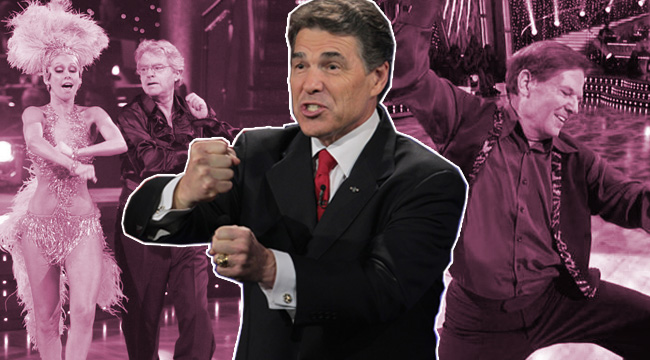 In addition to disgraced U.S. swimmer Ryan Lochte, former Texas governor and two-time Republican presidential candidate Rick Perry will appear on the 23rd season of Dancing with the Stars. And as the Dallas Morning News and subsequent outlets pointed out, President George W. Bush's successor to the Texas throne won't be the first of the state's politicos to gyrate on the popular ABC reality television contest. Former House Majority Leader Tom DeLay hammered his way through (and off of) season nine.
Then again, DeLay himself wasn't the first former politician to waltz his way onto the Dancing with the Stars stage. That honor belongs to none other than Jerry Springer, the daytime talk show host who served as city councilman (despite a scandal involving a prostitute and a personal check) and, for a single year, mayor of Cincinnati. Both men gave less-than-stellar performances that, despite their constant panning by critics and viewers alike, permanently embedded themselves into the minds and memories of audiences unable to avert their eyes.
Considering Perry's tweeted image with professional dancer Emma Slater, the 23rd season is primed to do the same:
That being said, the real question is: Who should Perry emulate? Springer, who spent most of the third season making fun of himself and having a good time? Or DeLay, who ignored his pending legal troubles and took the contest so seriously he suffered stress fractures in both feet?
Spring-er Into Action
During his tenure on the program, Jerry Springer and his dancing partner Kym Johnson became something of a sensation. Not because they were the best pair on stage, but for Springer's onstage wit and occasional bouts of seriousness. When the television personality dressed up as a picador and feigned playing the guitar, he drew attention to himself in a goofy, self-deprecating sort of way. Or, as he joked with the press at the time, "Obviously, everyone is a better dancer than I am."
Yet the former politico also knew how to pull the audience's heartstrings, as was the case with his final dance with Johnson — a waltz. Springer emphasized it was his dream to learn how to waltz so that he could dance one properly at his daughter's wedding. "I try to do all of the dances well," he explained, "but this one is more important to me." Not only that, but as evidenced by the video above, has attempt wasn't that bad. Sure, it didn't help Springer and Johnson escape from their eventual elimination, but as he later quipped, "At my age we don't shake hips, we replace them."
DeLay the Inevitable
[protected-iframe id="864ff9cbdfa35a719d9127364593ca4a-60970621-76566046″ info="http://media.mtvnservices.com/embed/mgid:arc:video:comedycentral.com:20239db2-ed01-11e0-aca6-0026b9414f30″ width="650″ height="365″ frameborder="0″]
Following Tom DeLay's arrest and resignation from the House Majority Leader gig in early 2006, and from Congress several months later, the embattled public figure just couldn't keep himself out of the spotlight. While Springer was waltzing away on season three, DeLay urged his political supporters to vote for rival Sara Evans in order to stop the "ultra liberal talk show host." Why? Because Springer's "smut," he argued, "has no place on television." (Evans subsequently withdrew from the competition after filing for what proved to be a messy divorce from her husband, Craig Schelske.)
As silly as this all was, the former congressman's own appearance on the show in 2009 found him on even wobblier footing. Or as then-Colbert Report host Stephen Colbert described it, "The most exciting marriage between politics and reality shows since Dick Cheney had President Bush put the entire country on Big Brother." That's because DeLay "aced all the classic 'Cha-Cha' moves" in what proved to be one of the program's most unintentionally funny performances. Not just because the disgraced politician was facing criminal charges, but because he'd given himself stress fractures in both feet as a result.
The Verdict
In his tweet, Perry insists he'll be using his time on Dancing with the Stars to help veterans. If the former Texas governor and Republican presidential hopeful is serious about using ABC's national platform for this purpose, then he'll emulate the model perfected by the "ultra liberal talk show host" instead of his former partisan colleague. Six years later, most people remember DeLay's time on the show in conjunction with his redistricting scandal and alleged connection to lobbyist Jack Abramoff. But Springer? The famous talk show host chose to ridicule himself at the expense of no one, set out to accomplish what he'd intended to do on the program, and entertained audiences without resorting to controversy.