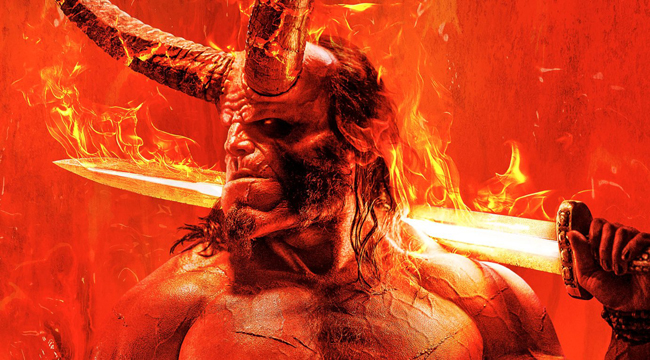 UPDATE: We apologize for the incorrect information in the below post. David Harbour has agreed to officiate a wedding as his Hellboy character (hence the "Big Red" mention), not as the sheriff from Stranger Things, if he achieves a certain number of retweets.
—–
Original post:
Actors sometimes have to take up side gigs. Stranger Things adult David Harbour — and future Hellboy — will have to add "wedding officiant" to his résumé. Last month, the actor agreed to marry two fans to each other after a Twitter "wedding challenge." Now he's been asked to do it again. But this time he's upping the stakes.
Since Stranger Things began in 2016, Harbour as gone from character actor to household name, all thanks to nabbing the role of Chief Hooper. Since then, he's been happy to do what his fans wish: He's hung out with penguins, he's posed for senior photos.
So when, earlier this year, a fan went to Twitter, posting, "What would it take to get @DavidKHarbour to be the Officiant at my wedding in September?!", Harbour actually chimed in. He responded, "125k retweets. Provided date works with s3 shooting schedule, I will get ordained and perform ceremony. I get to read an esteemed love letter of my choosing, and after the cake is officially cut, I get the very first piece."
He got 171,000 retweets, most of those in less than 24 hours.

The wedding happened last month, with Harbour officiating while dressed in character. And now it's happening again: Film journalist Spencer Perry has asked Harbour to do up his wedding in March. Harbour, having noticed how easily he reached his goal, has upped the ante.
"666k. Of this tweet. Big Red officiates. Full Gear. In his saintly best," Harbour tweeted Saturday. "Impossible number? Think of how difficult it will be for me to get this character ordained by a Christian church."
He added he'd knock off 500,000 if Perry got coax Hellboy creator Mike Mignola to read a poem at the service. Well, ask and you shall receive:
As of this writing, Harbour's original post has over 16,000 retweets since being posted Saturday afternoon. Who says absolutely everything is bad in 2018?