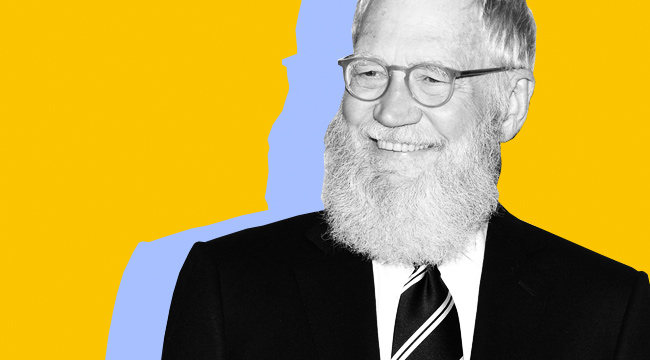 On Tuesday night on the Upper East Side's 92nd Street Y, David Letterman hosted Al Franken for a conversation I can only describe as "a treat." I wasn't there for work. This was a birthday present paid for well in advance that I wasn't going to write about, but now I feel compelled because it was just so darn entertaining. (92nd Street Y seems to eventually archive these talks on their Periscope account, but it's not there as of right now.) This talk was mostly about Franken – who is promoting a new book, Al Franken: Giant of the Senate – but the whole time I couldn't stop thinking about Letterman and what his role is in today's culture, because he sure doesn't seem to be retired to me.
First, as mentioned, this was quite a treat. Al Franken, for anyone who has followed his career doesn't, let's say, "suffer fools." He's the type of interviewee who can easily throw off the most seasoned of interviewer: When you expect him to joke around, he's dead serious; when he's asked a serious question he thinks is dumb, he's likely to take a shot at the person who asked the question. This is why Letterman is the perfect interviewer because he can't be fazed at this point and there's a real mutual respect, which led to a great discussion.
Letterman began by stating, "I'm starting to lose confidence in the Trump administration," which got a big laugh. Letterman also asked Franken about Jared "Back Channel" Kushner and tried to get Franken to say Kushner's actions were treason. (Franken gave a slightly more diplomatic answer, but jokingly chided Letterman for the way the question was asked.)
Franken spent the nearly 90-minute talk telling stories about his Senate colleagues, with particular ire toward Ted Cruz. (Franken's line, "I think I like Ted Cruz more than most of my colleagues, and I hate Ted Cruz," plays really well in front of a crowd.) Franken explained that there's an unwritten rule about sharing private stories about conversations with other senators, but doesn't adhere to that rule for Ted Cruz because Cruz himself breaks this rule all the time. Franken called Cruz, "The toxic guy at your office." Going even further, "He's the guy who microwaves fish." (Honestly, I don't think there's a bigger insult that can be said about a coworker.)
Franken told story after story after story – and all the while David Letterman just looked so delighted.

When Letterman left The Late Show, I think a lot of us thought he'd follow his hero Johnny Carson's route – just kind of disappear into the void and enjoy being away from it all. This made a lot of sense because Letterman is known as being much more mercurial than even Carson. (Carson did go to Hollywood parties.) So it kind of fit that when Dave left Late Show, that might be the last we saw of him. Because even then, Letterman rarely showed up on anything other than his own show: Now that he retired, why would that change?
But that's not what happened. I'm being hyperbolic, but it feels like Letterman has done more interviews in the last year than he did over the rest of his career. Just in the last couple months he was on the cover of New York magazine and gave an interview to GQ.
And the weird thing is now, every time he talks, he gets massive media attention – much more than when he was doing a nightly show having to gab it up with people he didn't seem to want to talk to that much. That's the thing about Letterman as an interviewer: When he's engaged, there's no one as good as he is. When he doesn't care, his dismissive attitude can sometimes be entertaining, but in later years he didn't even do that very often and went on cruise control. But, again, when he's on, he's on.
And that seems to be a pattern now: In the last few months he hosted a panel with Tina Fey, inducted Pearl Jam into the Rock & Roll Hall of Fame, and now hosted an event with Al Franken. It's like he's still doing his show, but just not on television and he's picking and choosing his guests. (I really wish Letterman would team up with HBO, or something, and do a monthly interview series. It would be outstanding.)
Around the time Letterman left Late Show, he told Rolling Stone, "I would like to do this show maybe three days a week, two weeks out of the month. Do they have shows like that?" So it's certainly not that often, but that's kind of what he's doing. Letterman isn't on every night, but he strangely seems more a part of our culture of comedic satire than he was in his last couple of seasons.
You should read Jason Zinoman's Letterman: The Last Giant of Late Night. It's a fascinating, not always flattering, encapsulation of Letterman's entire career that Letterman himself participated in. But what's interesting, as to what we are seeing with Letterman today, is Letterman's discovery of his own political voice. Letterman was someone who kept his politics mostly to himself for most of the run of Late Night and Late Show, and as Zinoman points out, watching the comedy on the show itself didn't offer many clues. But after Jon Stewart changed the direction of The Daily Show Letterman started to find his own political voice. In his later years on the show, gone were the elaborate bits, but there was Dave talking about what he thought about the day's events in a way he hadn't done before.
And there was Dave on Tuesday night, just shy of accusing the President of the United States' son-in-law of treason. And for the life of me, Dave hasn't seemed more determined and more engaged and more delighted in years. Letterman may not have a strict schedule when we know when we will see him, but it's clear he's not going anywhere.
You can contact Mike Ryan directly on Twitter.