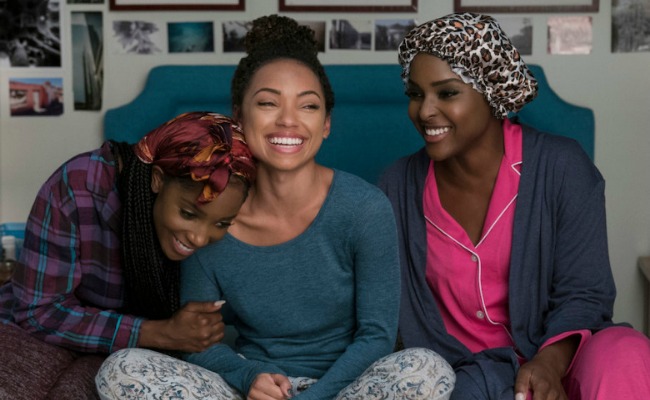 Ripping stories straight from the headlines is a delicate tightrope act for television shows. Without artistry, this kind of storytelling can devolve into lazy jokes and cheap moralizing. However, if done properly, issues can be brought into sharp focus with the commentary to match. Netflix's Dear White People leans into that gamble and has managed to nail the balance two seasons in a row. The stylish satire takes the experiences of black students at a largely white (fictional) Ivy League university and gives them real-world weight despite the witty delivery.
The first season focused on a campus cop pulling a gun on an unarmed black man — Reggie, played by Maque Richardson — at a college party, white students donning blackface, and the protests that follow. The second season keeps these themes in play, showing what happens in the fallout when the campus "goes back to normal," but also adds in racist alt-right internet trolls and Fox News-esque talking heads and their ability to keep tensions enflamed. As Sam (Logan Browning), arguably the show's main protagonist, finds herself in yet another flame war on Twitter, many viewers will probably cringe in recognition at the bots and MAGA accounts that have made social media even more unbearable at times.
When it was first announced, some Netflix users balked at the title and claimed that the series "promoted white genocide," canceling their accounts in retaliation. However, if they had rejected that knee-jerk reaction and actually watched the series, they would have witnessed a nuanced take on modern race relations that sought to exposed centuries of wounds instead of merely screaming at "the other." Maybe they still would have taken issue with the content, maybe they wouldn't. But in a world where shows like the freshly-canceled Roseanne and the just-revived Last Man Standing dominate the news cycle, Dear White People feels like an eloquent and steadfast rebuke of the status quo.

With each episode of the season focusing on a different character, Dear White People's second season adds new depth to well-drawn characters that carry over from season one. Showrunner, director, and writer Justin Simien is wise enough to tell specific stories with universal appeal, and many viewers will see themselves reflected in the characters on this show, regardless of skin color. Lionel (DeRon Horton) struggles to find meaning in his work and his recently embraced homosexuality. Troy (Brandon P Bell) grapples with the fallout of his protest at the end of the season and how he and his father, the university's president, disagree on the right way forward. Coco (Antoinette Robertson) is forced to deal with things beyond her control while trying to work within a system that would prefer to keep her in a box. Sam has to deal with the untimely loss of her father and the overwhelming grief that follows.
However, despite the universality of story, Dear White People never shies away from the characters blackness and how it informs how they look at the world. This is perhaps best reflected in Sam's relationship with Gabe (John Patrick Amedori), a well-meaning white grad student who doesn't always know the best way to be an ally. After they broke up at the end of season one, Sam and Gabe remained in each other's orbit due to Gabe's documentary project, "Am I A Racist?" In the fictional doc, Gabe speaks to a number of Sam's friends and other black students on campus to find out how he, a white man, can be the best ally and fight against prejudices cultivated by society's influence. However, while his intent is good, he's largely just repeating the message of Sam's radio show, the titular "Dear White People," but in a more palatable, soundbite-friendly way. This disconnect between the two leads to the best episode of the season, as they work to understand each other while also revealing the scars that they both bear following their messy breakup. Browning and Amedori are up to the task of making a 15-minute discussion riveting and meaningful on both the personal and societal level, leading them both to a deeper understanding of why the other behave the way that they do.
In a better world, Dear White People would be a massive hit. While Netflix doesn't release its viewing numbers, Dear White People is likely on the more modest end of the spectrum. This is the kind of show that packs a lot into the half-hour episode format, settling into a stylish aesthetic but never at the expense of substance. Dear White People might be a victim of the Netflix's binging formula: people burn through the episodes in a weekend without having the long wait between twists in a week by week format. Dear White People deserves to have its watercooler moment because it encourages the discussions that we need to be having in increasingly divisive times.