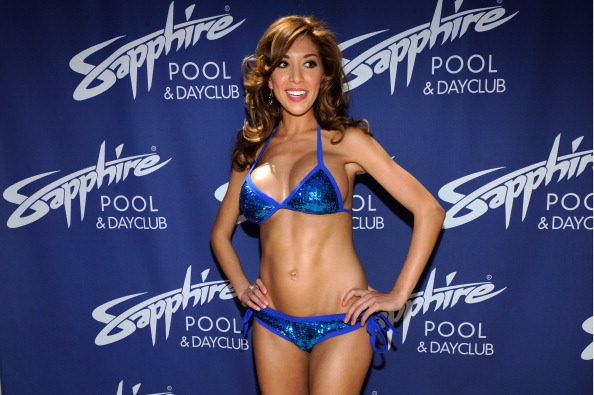 Farrah Abraham has done a lot in her life by the age of 23. The former Teen Mom star is still a mother, which I'm sure is a bit of a surprise to some, has two adult films under her belt, a series of erotic novels, one oddly placed Christian parenting book, a musical career, a short detour as a stripper, and don't you date forget the novelty toys. Business is booming, but it seems that Abraham hasn't stopped setting goals yet.
She sat down with E! News to discuss her situation and unveil her future plans:
"I've taken a break after finishing the trilogy that I finished and I don't know if I'll do literary soon. But then there's other novelty toys that I'm producing, and who knows, there's other stuff always," she explained.

"Hopefully in five years I can go back to school. I really want to get my doctorate and I want to do plastic surgery. So that's just something on top of all of the other things I want to do but that would probably be my end goal."
This is either a surprising career choice for Abraham or an obvious one, all depending on how you look at her past experiences. Yes, she had a botched surgery that made her look like she got drunk at a car wash and made out with the vacuum hose. It happens. But maybe that mistaken surgery inspired her to go into medicine and right the wrongs that were done to her. It's quite the story we could be seeing, ready to bloom and thrill the world with revolutionary ideas and quality cosmetic enhancements.
I highly doubt all of that, but you could honestly throw a darts at a corkboard full of ideas and it might turn out to be true for Abraham. I didn't even have one sex tape to my name at 23 or a trilogy of erotic literature. Pick a card and see what happens.