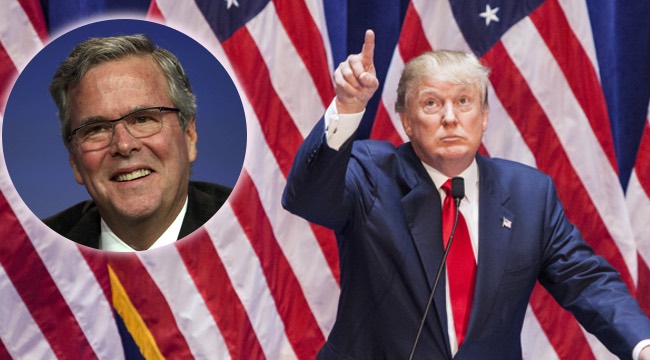 On Friday, Donald Trump sat down with Bloomberg to speak on a wide range of topics, including economics and Hillary Clinton. Anchor Stephanie Ruhle paused to ask how Trump would handle a crisis, such as standing in front of the nation like George W. Bush did after the 9/11 attacks. This is a very relevant question. Trump mainly concentrates on Trump, and he prides himself upon his negotiating skills. When confronted with a sensitive subject, Trump's abilities to lead may be limited.
Trump issued a fair reply. That is to say, he did not praise Dubya, and he did not insult him. He simply pointed out that George W. Bush didn't have a choice on whether or not to speak to the nation after 9/11:
"When you talk about George Bush, and say what you want, the World Trade Center came down during his time … He was president. Blame him, or don't blame him, but he was president. The World Trade Center came down during his reign."
Of course, this doesn't really answer the journalist's question. Would Trump be able to handle a moment of crisis with tact? That's difficult to say, but Jeb Bush was not pleased that Trump did not praise his brother. Jeb took to Twitter to label Trump as "pathetic":

Well, that didn't sit well with Trump, which shouldn't really surprise anybody. What does present a certain element of shock, however, is that Trump kept his replies civil from a Trump standpoint. Yes, Trump called Jeb "pathetic" too because Twitter is like high school, but Trump clearly wins this round.