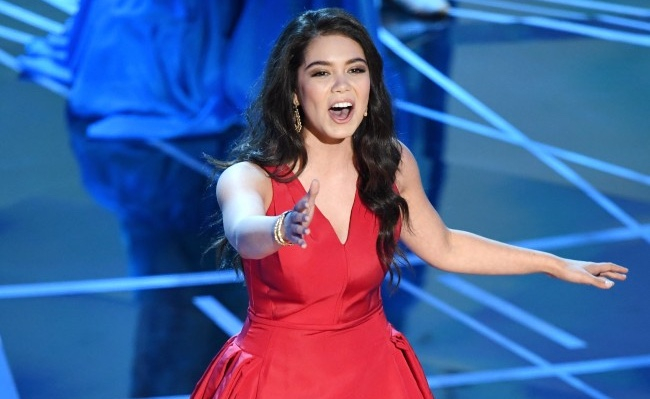 Auli'i Cravalho has had quite the year, what with an open casting call granting her the chance to become a Disney Princess in Moana at the age of just 16 years old, and have songs written for the role by Lin-Manuel Miranda himself. That opportunity and what was surely a magical experience culminated in a big weekend for the teenager, where she got to perform the movie's hit song "How Far I'll Go" in front of some of the most important people in Hollywood as well as millions more people watching at home. She may have gotten hit in the head with a prop right in the middle of the performance, but she finished the song with grace and managed to kill it on the red carpet (in three different outfits!) as well.
Now, she might be getting her big live-action break on network television. According to Deadline, Cravalho has been cast in Jason Katims' new NBC show Drama High. The show tells "the story of ground-breaking high school drama teacher Lou Volpe" and is based on a book written by one of Volpe's former students. It will focus on an "extraordinary working-class high school drama department and the incredible students who come alive under a passionate teacher and family man whose dedication to the program galvanizes the entire town."

Cravalho will play Lilette, a student in the high school, who better get the chance to sing a bunch of classic musical numbers throughout the series otherwise what's the point? Katims is most well known for family dramas that consider making the audience cry every episode a normal thing to do, specifically shows like Friday Night Lights and Parenthood, so with the expressive Cravalho as a lead there's more than a chance that trend will continue. The show is also brought to you by Jeffrey Seller, a Hamilton producer, so Auli'i's casting may be thanks to a good referral from Lin himself.
(via Deadline)