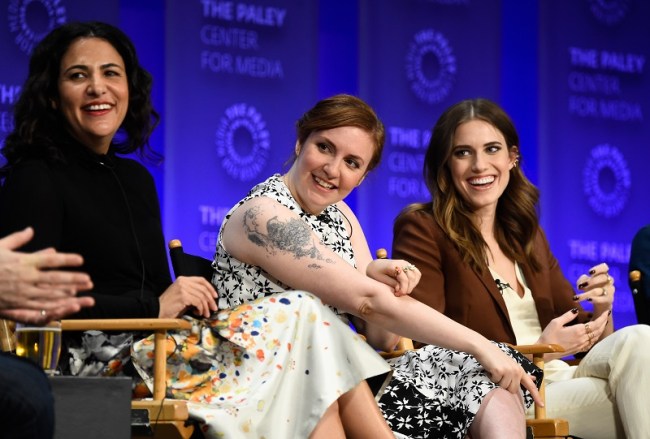 They did not specifically talk about the butt stuff, but Lena Dunham and Allison Williams did discuss the now-infamously frequent sex scenes on HBO's Girls while at PaleyFest. They appeared alongside executive producers Jenni Konner, Bruce Eric Kaplan, and Ilene S. Landress and cast members Andrew Rannells and Alex Karpovsky, taking questions from the show's executive producer Judd Apatow.
"We try to do sex that pushes the characters and is not gratuitous," Dunham said, noting the response – both positive and negative – that the show's carnal depictions have received.

"We're at the point now where masturbating is so boring," joked Williams to big laughs, talking about a scene with her character that was cut this season.
Indeed, the show features a lot of sex and nudity that make the show polarizing, mostly to people who are immature and disgusting, but also to people who aren't really used to seeing sex depicted so honestly and naturally, especially by women. Meaning, not everyone who has sex has pretty sex and looks like a supermodel.
"There's a lot of effort and desire to be really truthful in this show," Kaplan said of his experience on Girls and the show's intentions, including the sex scenes.
But Dunham did say that the responses have caused her to continue her semi-break from Twitter, which is still semi-happening:
She made a point of deleting the social media app from her phone, but the still-Twittering actress now sends her tweets to an unnamed person (castmate Williams joked it was her), who posts them for her and tells her the responses.
And no, she didn't mention anything about the cheap animal she's wearing on her head for her upcoming appearance on Scandal. But here's this, since this is what you came here for when you saw the words "Allison Williams" and "sex scenes" in the title:
Source: Deadline