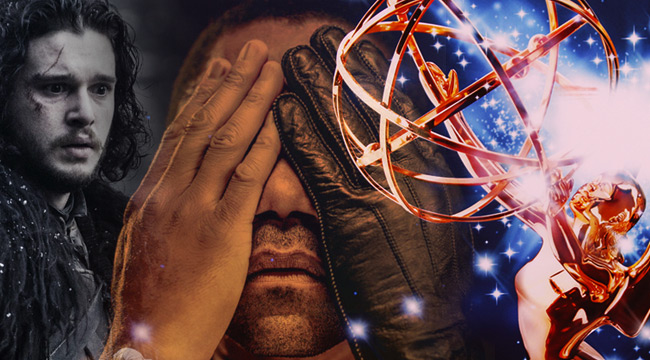 The 2016 Emmys are loaded. Yes, long-running favorites like Mad Men and Breaking Bad are gone, and the ongoing late-night shake-up took out a few perennial frontrunners, but that's not necessarily a bad thing. It means we get to shake the nominations up a little bit. A very little, because this is the Emmys, after all. But still. Between fresh blood like Mr. Robot and long overdue recognition for The Americans and the rise of the limited series, there are a few new faces mixed in this year, which is nice.
Below, I've attempted to predict the winners in all the major categories. It was hard. You will probably get mad at me, or question my intelligence and/or sanity. That's fair. I plan on doing the same thing to the real Emmys when the winners are announced Sunday night. But please know that my selections are right and everyone else's are wrong, unless they match up perfectly with mine. That's the one thing you need to take away from this.
Off we go.
Outstanding Drama Series
The Americans
Better Call Saul
Downton Abbey
Game of Thrones
Homeland
House of Cards
Mr. Robot
Prediction: First of all, let's all give USA a warm welcome to the festivities. I bet you never thought you'd see the day that a USA original series got a nomination for Outstanding Drama. But here we, and they, are thanks to the shockingly good and weird first season of Mr. Robot. It's like if there were a kid in high school — nice kid, not popular but not unpopular, just kind of there — who showed up one day with a leather jacket and a story about how he spent his summer getting in switchblade fights with motorcycle gangs. Now he's invited to Sally Featherston's big homecoming party and everyone's like, "Yo, is that USA Network over there? I heard he killed a guy." I've seen it a million times.
That said, the smart money here is on Game of Thrones to repeat. Acceptable alternatives include Better Call Saul and The Americans, but neither of those shows had a giant named Wun-Wun who ripped a dude in half with his bare hands, so let's call them a long shot.

Outstanding Comedy Series
Black-ish
Master of None
Modern Family
Silicon Valley
Transparent
Unbreakable Kimmy Schmidt
Veep
Prediction: Okay, lots of good shows. Process of elimination. Modern Family's reign is over, as is Transparent's — deserved — moment in the sun. Master of None and Unbreakable Kimmy Schmidt were both really great but a little niche, and neither broke through like you might have expected. That leaves Veep, Silicon Valley, and Black-ish.