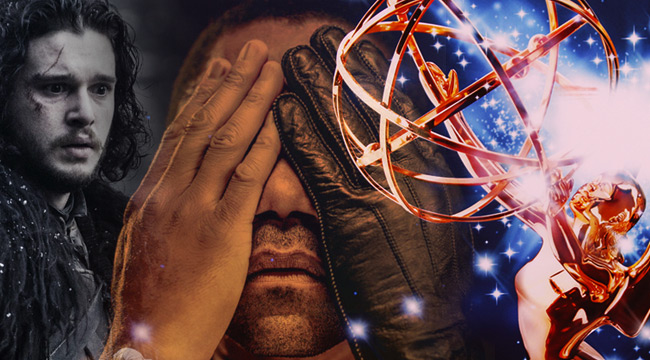 The 2016 Emmys are loaded. Yes, long-running favorites like Mad Men and Breaking Bad are gone, and the ongoing late-night shake-up took out a few perennial frontrunners, but that's not necessarily a bad thing. It means we get to shake the nominations up a little bit. A very little, because this is the Emmys, after all. But still. Between fresh blood like Mr. Robot and long overdue recognition for The Americans and the rise of the limited series, there are a few new faces mixed in this year, which is nice.
Below, I've attempted to predict the winners in all the major categories. It was hard. You will probably get mad at me, or question my intelligence and/or sanity. That's fair. I plan on doing the same thing to the real Emmys when the winners are announced Sunday night. But please know that my selections are right and everyone else's are wrong, unless they match up perfectly with mine. That's the one thing you need to take away from this.
Off we go.
Outstanding Drama Series
The Americans
Better Call Saul
Downton Abbey
Game of Thrones
Homeland
House of Cards
Mr. Robot
Prediction: First of all, let's all give USA a warm welcome to the festivities. I bet you never thought you'd see the day that a USA original series got a nomination for Outstanding Drama. But here we, and they, are thanks to the shockingly good and weird first season of Mr. Robot. It's like if there were a kid in high school — nice kid, not popular but not unpopular, just kind of there — who showed up one day with a leather jacket and a story about how he spent his summer getting in switchblade fights with motorcycle gangs. Now he's invited to Sally Featherston's big homecoming party and everyone's like, "Yo, is that USA Network over there? I heard he killed a guy." I've seen it a million times.
That said, the smart money here is on Game of Thrones to repeat. Acceptable alternatives include Better Call Saul and The Americans, but neither of those shows had a giant named Wun-Wun who ripped a dude in half with his bare hands, so let's call them a long shot.

Outstanding Comedy Series
Black-ish
Master of None
Modern Family
Silicon Valley
Transparent
Unbreakable Kimmy Schmidt
Veep
Prediction: Okay, lots of good shows. Process of elimination. Modern Family's reign is over, as is Transparent's — deserved — moment in the sun. Master of None and Unbreakable Kimmy Schmidt were both really great but a little niche, and neither broke through like you might have expected. That leaves Veep, Silicon Valley, and Black-ish.
My guess is Black-ish. It's a strong show, and it's funny, and it's on a network at a time when network shows don't get the love they used to, and it covered some important issues that the country is dealing with right now. Voters love that.
Limited Series
American Crime
Fargo
The Night Manager
The People v. O.J. Simpson: American Crime Story
Roots
Prediction: The second season of Fargo was awesome for a bunch of spoiler-y reasons that I won't give away but one of which rhymes with "claceship." (Why have you not watched Fargo, anyway?) But this is gonna be O.J.'s year. Wait. No. I meant it's gonna be The People v O.J. Simpson: American Crime Story's year. Probably not great for O.J., himself. Jail seems bad. This is the kind of useful cultural analysis that I strive to bring to you every day.

Variety Series
Comedians in Cars Getting Coffee
Jimmy Kimmel Live
Last Week Tonight with John Oliver
The Late Late Show with James Corden
Real Time with Bill Maher
The Tonight Show starring Jimmy Fallon
Prediction: The biggest story in this category isn't who will win (John Oliver), but who wasn't even nominated. Look at that list. No Daily Show, no Colbert. Both underwent significant changes last year (new host, new network/show/personality, respectively), and even though they each had their struggles, it's still a little surprising that they didn't get a nomination, mostly because the Emmys has long had a habit of rubber-stamping recognizable names, regardless of merit. It makes these omissions extra cold. As does Corden making the list over Colbert. This entire category should be nominated for Outstanding Drama.
Lead Actor in a Drama Series
Kyle Chandler, Bloodline
Rami Malek, Mr. Robot
Bob Odenkirk, Better Call Saul
Matthew Rhys, The Americans
Liev Schreiber, Ray Donovan
Kevin Spacey, House of Cards
Prediction: Malek, Odenkirk, and Rhys. A good name for a law firm, and your short list for winner. You can make a solid case for any of them, and I will if you come over to my place and make the mistake of asking me about it or specifically asking me not to talk about it, but the short version is that I'd be perfectly happy with any of the three. If I have to choose, though, I'll say… oh, I don't know, let's say Rhys wins because The Americans finally got recognized this year and someone from the show will probably walk away with a trophy.
Lead Actress in a Drama Series
Claire Danes, Homeland
Viola Davis, How to Get Away with Murder
Taraji P Henson, Empire
Tatiana Maslany, Orphan Black
Keri Russell, The Americans
Robin Wright, House of Cards
Prediction: So here's my thinking: If Rhys doesn't win for Lead Actor, Russell win will this for the same reason I thought Rhys would win that. If Rhys does win, however, I don't think two leads from the same show will both win Emmys this year, so the trophy will go to Henson even though season two of Empire was a mess. It's all connected.

Lead Actor in a Limited Series or Movie
Bryan Cranston, All the Way
Benedict Cumberbatch, Sherlock
Idris Elba, Luther
Cuba Gooding Jr.,The People v. O.J. Simpson: American Crime Story
Tom Hiddleston, The Night Manager
Courtney B. Vance,The People v. O.J. Simpson: American Crime Story
Prediction: Vance or Cranston. It's weird that they're up for the same award, on a couple levels. First, I'm not even sure Vance was "the lead" on his show, because I'm not sure that show even had a real "male lead." And then he — someone who starred on a huge sweeping show than spanned 10 episodes and over eight hours — is up against Cranston and his two-hour HBO movie. It's madness. I'm tempted to penalize both of them for these issues, but then there's also the thing where they were both pretty terrific in their roles. So I don't know. Let's go with Vance.
Lead Actress in a Limited Series or Movie
Kirsten Dunst, Fargo
Felicity Huffman, American Crime
Audra McDonald, Lady Day at Emerson's Bar and Grill
Sarah Paulson,The People v. O.J. Simpson: American Crime Story
Lili Taylor, American Crime
Kerry Washington, Confirmation
Prediction: If Sarah Paulson doesn't win, I will eat my laptop, power cord and all.

Lead Actor in a Comedy Series
Anthony Anderson, Black-ish
Aziz Ansari, Master of None
Will Forte, Last Man on Earth
William H. Macy, Shameless
Thomas Middleditch, Silicon Valley
Jeffrey Tambor, Transparent
Prediction: Tambor is your defending champ, which goes for a lot with Emmy voters (see the next category). But as I said earlier, the buzz for Transparent is dying down a bit. My bet is that Ansari wins. Some of the other names on the list are more actor-y, sure, but Ansari is recognizable and his show was very much personal and his own, to the degree he put his own parents in it. Also, his dad should have been nominated for his supporting performance. I am barely joking.
Lead Actress in a Comedy Series
Ellie Kemper, Unbreakable Kimmy Schmidt
Julia Louis-Dreyfus, Veep
Laurie Metcalf, Getting On
Tracee Ellis Ross, Black-ish
Amy Schumer, Inside Amy Schumer
Lily Tomlin, Grace and Frankie
Prediction: Julia Louis-Dreyfus has won this award four times in a row and Veep had a killer season even after its showrunner and creator, Armando Iannucci, left the show. Could someone else win? Sure. Anything can happen. A meteor could land in Malibu and little alien critters could scurry out and steal all the statues right before the ceremony and force the presenters to hand out crappy versions that two interns made out of tin foil in a panic during the monologue. But that might still be less of a shocker than JLD losing.
Supporting Actor in a Drama Series
Jonathan Banks, Better Call Saul
Ben Mendelsohn, Bloodline
Peter Dinklage, Game of Thrones
Kit Harington, Game of Thrones
Michael Kelly, House of Cards
Jon Voight, Ray Donovan
Prediction: Wellllll they could give it to Kit Harington for the whole "resurrected Jon Snow comes back and saves the day despite not being that great a general, if we're really being honest about everything" thing, or they could give it to Jonathan Banks for continuing to be awesome. My head says Kit, but my heart scream Banks.
Supporting Actress in a Drama Series
Maggie Smith, Downton Abbey
Lena Headey, Game of Thrones
Emilia Clarke, Game of Thrones
Maisie Williams, Game of Thrones
Maura Tierney, The Affair
Constance Zimmer, UnREAL
Prediction: Have we figured out how Sophie Turner managed to not get nominated for this? Did she run over someone's dog? Like, by accident, obviously, but the kind of accident that could have been avoided? Like maybe the dog ran into road but she missed it because she was reaching for something? Seems like the most likely possibility to me.
But anyway, Lena Headey, if only because a) Cersei really did quite a lot last season, and b) I wonder if Zimmer will get penalized for UnREAL falling off in season two.
Supporting Actor in a Comedy Series
Louie Anderson, Baskets
Keegan-Michael Key, Key & Peele
Andre Braugher, Brooklyn Nine-Nine
Ty Burrell, Modern Family
Tituss Burgess, Unbreakable Kimmy Schmidt
Matt Walsh, Veep
Tony Hale, Veep
Prediction: Man oh man, I do not know what to do here. I would really like the award to go to Louie Anderson, because what he did on Baskets was so weird and great. But it might be too weird, right? I've tried to be good up until now about making actual predictions and not just projecting my dreams into the world, but screw it. Louie wins.
Supporting Actress in a Comedy Series
Niecy Nash, Getting On
Allison Janney, Mom
Kate McKinnon, SNL
Judith Light, Transparent
Gaby Hoffmann, Transparent
Anna Chlumsky, Veep
Prediction: Kate Mc-Kinn-on clap clap clapclapclap. I don't know why, but I think this is her year. I'm not doing science over here.

Supporting Actress in a Limited Series or Movie
Melissa Leo, All the Way
Regina King, American Crime
Sarah Paulson, American Horror Story: Hotel
Kathy Bates, American Horror Story: Hotel
Jean Smart, Fargo
Olivia Colman, The Night Manager
Prediction: I have never seen AHS or American Crime, so I'm at a bit of a loss on this one. However, I do know that it would be funny if Sarah Paulson wins for limited series Lead Actress and Supporting Actress, so I'm tempted to predict that she wins just on that. Jean Smart was great on Fargo, too. Your guess is as good as mine. Probably better.
Supporting Actor in a Limited Series or Movie
Jesse Plemons, Fargo
Bokeem Woodbine, Fargo
Hugh Laurie, The Night Manager
Sterling K. Brown, The People v. O.J. Simpson: American Crime Story
David Schwimmer, The People v. O.J. Simpson: American Crime Story
John Travolta, The People v. O.J. Simpson: American Crime Story
Prediction: Sterling K. Brown. But I want it on the record that this category is unfair because everyone nominated deserves an award. All of them were so good, or at least so fascinating. Remember how many times Schwimmer called O.J. "Juice"? God, I loved that. I vote we do a six-way tie and Travolta gives the speech accepting for the group. That's the only fair way to do this. It is also one of many reasons I don't get to vote for the Emmys.