Eriq La Salle is an actor probably best known for portraying Peter Benton on NBC's hit medical drama E.R. To some of the more devoted '80s movie fans, however, he'll never be anyone other than Lisa's no-good boyfriend Darryl Jenks, the heir to the Soul Glo empire, in the 1988 comedy classic Coming to America. Soon, the 54-year-old actor will add a Marvel title to his ample résumé, joining Hugh Jackman in next year's R-rated Wolverine film. But the real fun goes down at 9 p.m. ET on Monday, as La Salle makes a guest appearance on the hit TBS comedy Angie Tribeca. He also continues to be quite the TV director, having most recently helmed an episode of Murder in the First and the very-much-talked-about "Ruby Slippers" episode of Once Upon a Time.
Eriq was nice enough to take a few minutes out of his busy schedule recently to answer a few questions from us.
1. You walk into a bar. What do you order from the bartender?
Pinot Noir.
2. Who's your favorite person to follow on Twitter and/or Instagram?
(no answer)
3. What's currently waiting for you on your DVR?
The Americans and Ray Donovan.
4. It's your last meal — what are you going out with?
Any kind of food flown in from Italy.
5. What websites do you visit on a regular basis?
Google?
6. What's the most frequently played song on your mobile device?
Anything by Luther Vandross.
7. If you could go back and give your 18-year-old self one piece of advice, what would it be?
Just chill — everything will work out.
8. What's the last thing you Googled?
"Swimming pool with fire."
9. Dogs or cats?
Dogs!
10. Best concert of your life was…?
Bermuda Music Fest — 8 years ago.
11. What book are you most likely to give as a gift?
The Prophet by Kahlil Gibran.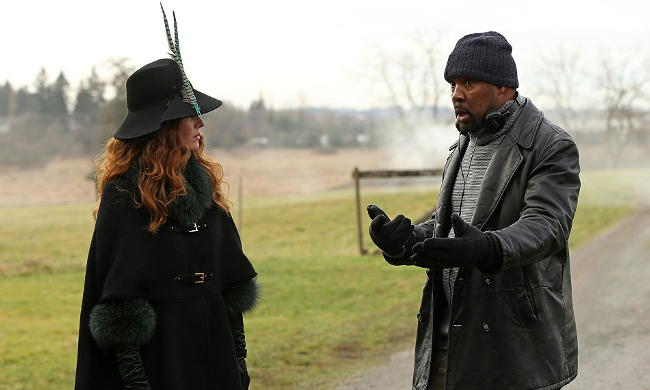 12. What's the nicest thing anyone has ever done for you?
My mother, and there are too many things to name.
13. South Park or Family Guy?
South Park.
14. You have an entire day to do whatever you want. What would you do?
Hammock, lake, nap.
15. What movie can you not resist watching if it's on?
The Godfather.
16. The sports team or teams you're most passionate about?
UConn Huskies Men's and Women's basketball teams.
17. Where did you eat the best meal of your life?
Italy — all over!
18. The last movie you saw in a theater?
X-Men: Apocalypse.
19. Who was your first celebrity crush?
Pam Grier.
20. What would you cook if Nic Cage was coming to your house for dinner?
(no answer)
PREVIOUSLY: Elaine Hendrix