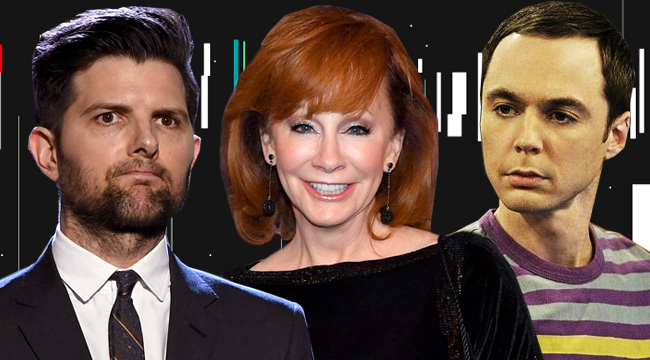 There's entirely too much television, and come this fall, there's going to be even more. That's when approximately 70 pilots hit the Big Four networks — ABC, CBS, Fox, and NBC — and The CW, because your DVR isn't already struggling enough. We haven't actually seen any of the new series, but the plot descriptions and casts have been released, giving us an opportunity to make premature evaluations on our future favorite show. Using this guide, we highlighted five of the most promising-sounding pilots, and five of the most ridiculous. That's not the same thing as "worst," mind you. Is a drama about a "superstar magician" going to be any good? Probably not, but we can't wait to watch it.
The Potentially Great
1. A.P. Bio (NBC)
A hilariously cynical Ivy League professor (Glenn Howerton) loses out on his dream job and goes to work as a high school biology teacher where he imposes his unorthodox teaching style and uses the kids to plot out revenge on those who wronged him.
Following the It's Always Sunny in Philadelphia season 12 finale, Howerton told us that it's "not entirely certain" whether he's leaving the show or not. "I might be, but I might not be," he confessed. "That really is the truth." His availability largely depends on the success of A.P. Bio, which stars not only the Sunny co-developer in his first lead role in a network sitcom since That '80s Show, but Patton Oswalt, who plays Principal Durbin, "a timid, petite, nervous mouse of a man." The pilot was written by SNL's Mike O'Brien, and Seth Meyers is attached as an executive producer. It would be a huge surprise if A.P. Bio failed. We'll have to wait to find out what that means for Sunny.
2. Ghosted (FOX)
A cynical skeptic (Craig Robinson) and a genius "true believer" in the paranormal (Adam Scott) are recruited by The Bureau Underground to look into the rampant "unexplained" activity in Los Angeles — all while uncovering a larger mystery that could threaten the existence of the human race.
This description reads kind of like a comedy version of The X-Files but with Adam Scott as David Duchovny and Craig Robinson as Gillian Anderson. I hope that was the entire pitch, now that I think about it.
"So you know The X-Files?"
"Yeah…"
"Well this is like that, but with Adam Scott from Parks and Rec as Mulder and Craig Robinson from The Office as Scully."
"… as Scully?"
"Basically, yeah. And funny."
"Okay, yeah. That'll work."
3. Household Name (ABC)
This multi-camera comedy follows a family who has an opportunity to buy the house of their dreams but under extremely abnormal circumstances: They must live with the previous owner, an eccentric, larger-than-life actress (Carol Burnett).
Multi-camera comedies have gotten a bad name in last 8-10 years as single-camera shows have seen their stars rise (Veep, Parks and Recreation, 30 Rock, etc. etc. etc.), but this one falls into the promising category for two reasons: Carol Burnett and Amy Poehler. Poehler is producing only, which is both good (she's also a producer on Broad City, so there's a track record here) and bad (whhhyyyy can't I have a show where Carol Burnett plays Amy Poehler's mom, preferable written by Mike Schur and Tina Fey and co-starring The Rock as their neighbor?). But still, just those two names make this one interesting.
4. Libby & Malcolm (ABC)
A blended family comedy about two polar-opposite political pundits (Felicity Huffman and Courtney B. Vance) who fall in love despite all odds and form an insta-family as well as a work partnership.
ABC has high hopes for Libby & Malcolm: it was the first official order of the pilot season. The network is probably right to be optimistic. The timely comedy stars American Crime's Felicity Huffman and American Crime Story's Courtney B. Vance, who won the Emmy for Outstanding Lead Actor in a Limited Series or Movie for his convincing performance as Johnnie Cochran, and comes from black-ish creator Kenya Barris. That's a lot of crime, and even more talent.
5. Me, Myself, & I (CBS)
A single-camera comedy examining one man's life over a 50-year span. The show will focus on three distinct periods in his life – as a 14-year-old in 1991, a 40-year-old (Bobby Moynihan) in the present day, and a 65-year-old (John Larroquette) in 2042.
This show had me at "Bobby Moynihan and John Larroquette playing different versions of the same character." Also, please note the name "Jaleel White" six-deep in the cast list. Will it be any good? I have no idea. Could it all go to crap before even making it to the air? Of course. But am I intrigued? Very.
The Definitely Goofy
1. Deception (ABC)
When his career is ruined by scandal, superstar magician Cameron Black (Jack Cutmore-Scott) has only one place to turn to practice his art of deception, illusion, and influence — the FBI. He'll become the world's first consulting illusionist, helping the government solve crimes that defy explanation and trap criminals by using deception.
If there's one thing I have always said about network television, it's that there are not nearly enough shows about disgraced magicians working with the FBI. Sure, The Mentalist is kind of that. And Psych was sort of that, almost. But that's not the point. The point is that this is happening and the blurb contains the phrase "the world's first consulting illusionist," which makes me so happy I might just explode right here in my seat. I hope a disgraced magician investigates my death. No, I demand it. Now that I know it's an option, I can't accept anything else.
The only downside here, and it is a small one, is that I joked about this blurb on Twitter and someone replied with a "You're off the case, turn in your badge and wand" joke, and I was immediately furious I didn't think of it first.
2. The Get (CBS)
A team of tireless internet journalists pursues and exposes stories of injustice using their unconventional investigative techniques in today's anything-goes world of reporting.
The first thing I, an internet journalist, do when I wake up in the morning is go to the bathroom. Then I have a quick breakfast, maybe some healthy oatmeal or Pop-Tarts (it's Pop-Tarts), while I scroll through Twitter, Facebook, CNN, Reddit, the Hollywood Reporter, etc. When I find something that piques my interest, I write about it. Before I know it, it's three in the afternoon, I haven't left the bed (except to go to the bathroom again and maybe eat some leftover pizza for lunch), and I'm still wearing the same pair of nasty gym shorts that I fell asleep in. I hope that's what The Get is about. Anything goes!
3. Insatiable (The CW)
When a disgraced, dissatisfied civil lawyer-turned-beauty pageant coach (Dallas Roberts) takes on a vengeful, bullied teenager as his client, he has no idea what he's about to unleash upon the world.
Look, anyone can be anything. Are you an airline pilot who wants to serve fast food burgers? You can do it! Are you a janitor at a fancy Boston college who thinks you're meant to be a rocket scientist, or whatever happens to Matt Damon in Good Will Hunting? Why not! Insatiable takes this idea to the extreme. As far as premises go, "civil lawyer-turned-beauty pageant coach" is a thing of beauty. It's like the creator couldn't settle on the professions, so she randomly flipped through the phonebook and landed on "civil lawyer" and "beauty pageant coach." (I don't care if it's "inspired" by a real-life story — it's still hilarious.) If Insatiable doesn't work, everyone can try again next year on Unquenchable, about a marine biologist-turned-monster truck driver.
4. Wisdom of the Crowd (CBS)
Based on the Israeli format of the same name, and inspired by the notion that a million minds are better than one, a tech innovator (Jeremy Piven) creates a cutting-edge crowdsourcing hub to solve his own daughter's murder, as well as revolutionizing crime solving in San Francisco.
Jeremy Piven plays a billionaire who is solving his daughter's murder with science. I freaking love it. I can see him now, butting heads with the old school cops who wants to solve crime the old fashioned way, hitting the streets and working sources and such. "
PIVEN: Umm, actually, my app has already triangulated the killer's location.
OLD SCHOOL COP: What's this guy talkin' about?
PIVEN: [Jeremy Piven face]
5. Young Sheldon (CBS)
The series follows The Big Bang Theory's Sheldon Cooper (Iain Armitage) at the age of 9, living with his family in East Texas and going to high school.
The Big Bang Theory is a very popular show. The actors have been nominated for a million Emmys (and made millions of dollars), and despite being 10 seasons in, 19 million people regularly tune in to see what sort of wacky misadventures Howard and Rajesh are getting into this week. That's a lot of millions. I get why CBS executives want to keep the Big Bang train a-rollin' — especially with the stars getting increasingly expensive — but to paraphrase Jeff Goldblum in Jurassic Park, they were so preoccupied with whether or not they could, they didn't stop to think if they should. They shouldn't, but they did, and now something called Young Sheldon will probably bring in five times as many viewers as The Good Place. Maybe we're living in the Bad Place?
The Potentially Great and Definitely Goofy
1. Untitled Marc Cherry Project (ABC)
Ruby Adair (Reba McEntire), the sheriff of colorful small town Oxblood, KY, finds her red state outlook challenged when a young FBI agent of Middle Eastern descent is sent to help her solve a horrific act. They form an uneasy alliance as Ruby takes the agent behind the lace curtains of this Southern Gothic community to meet an assortment of bizarre characters, each with a secret of their own.
I'm not sure exactly how this will play out but all I can picture right now is the first season of True Detective but with Reba McEntire as Rust Cohle. It's all you can picture now, too, I bet. You're very welcome.
The One Show Each Writer Cares Way Too Much About
Brian: Dynasty
I'm interested in Dynasty for two reasons:
One, it's produced by Josh Schwartz, who created The O.C. and has solid history when it comes to fun dramas about rich families with problems.
Two, the last time someone tried to reboot a popular '80s show about a troubled wealthy family, it was TNT's version of Dallas, which gave us the single greatest GIF in TV history: Judith Light snorting cocaine at a rodeo.
Josh: Every "Untitled" series
Did I watch a single episode of AMC's Untitled Billy Corgan Wrestling Project?
Nope.
Do I know if Untitled Billy Corgan Wrestling Project even made it to air?
No clue.
But three years later, am I still obsessed with Untitled Billy Corgan Wrestling Project?
Of course. Because it's called Untitled Billy Corgan Wrestling Project!
I'm actually fascinated by all Untitled [Name or Collection of Words] Projects, and this fall has some gems. There's the aforementioned Untitled Marc Cherry Project, as well as Untitled Paul William Davies Project, Untitled Single Dad Project, Untitled Jenny Lumet Project, Untitled Navy SEAL Project, Untitled Marvel Action-Adventure Series, and Untitled University Project. Do I plan on watching any of these shows? Other than the Marc Cherry one and maybe whatever Marvel is brewing, of course not. But would I check out Untitled Single Dad Project if it stayed with that title, and not switch to something generic, like Bad Dad? You bet. Also, #BringBackUntitledBillyCorganWrestlingProject.