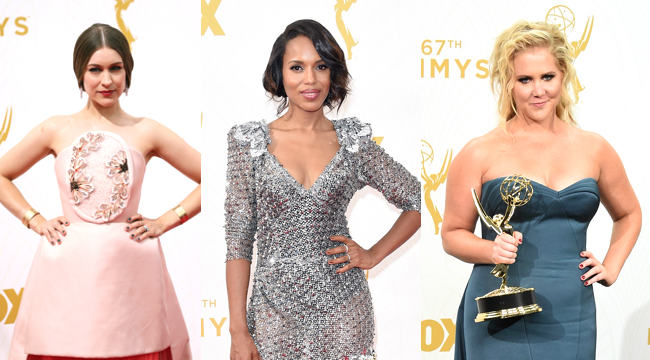 Sunday evening's Emmys ceremony saw plenty of dramatic moments. This superficial post, however, will have fun with red-carpet looks. Fashion is always subjective and seldom predictable. Many of these selections could easily fall into "best" or "worst," depending upon which way your fashion sensibilities fall. Here are some of the more clear-cut cases. Let's have some fun evaluating the ensembles of the evening.
Best: Lena Headey wore a beautiful Zuhair Murad couture gown that lent a dramatic flair to her appearance. The voluminous skirt was perfectly balanced with a more minimal top and plunging neckline. Headey's Harry Kotlar jewels glitter alongside the gown's patterned accents. This dress is quite formal, but Headey still looks comfortable.
Worst: Heidi Klum nurses a running joke with this Atelier Versace number. Namely, Klum hosts a fashion show and has worked for decades an an industry insider. Yet, her own fashion sense is often lacking, which is the case with this ruffly, yellow gown. Several complicated patterns compete with strappy Versace sandals. It's too much.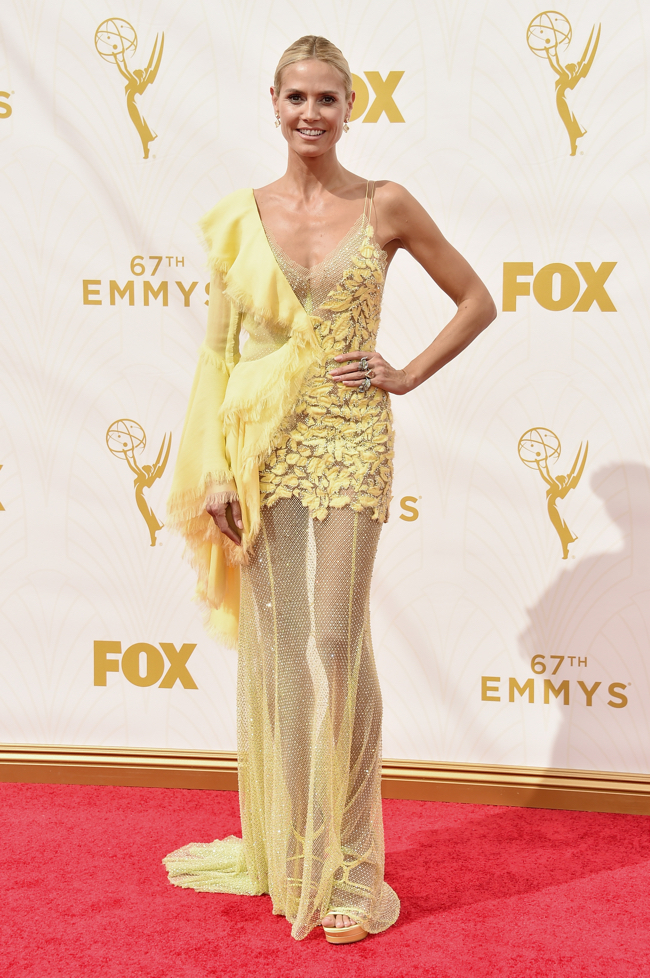 Best: Padma Lakshmi's Romona Keveza design was one of several yellow dresses. This classic gown paired a ruched bodice with a smooth, flowing bottom and a half train. Lakshmi looks impossibly perfect, although the dress itself could stand a little tailoring.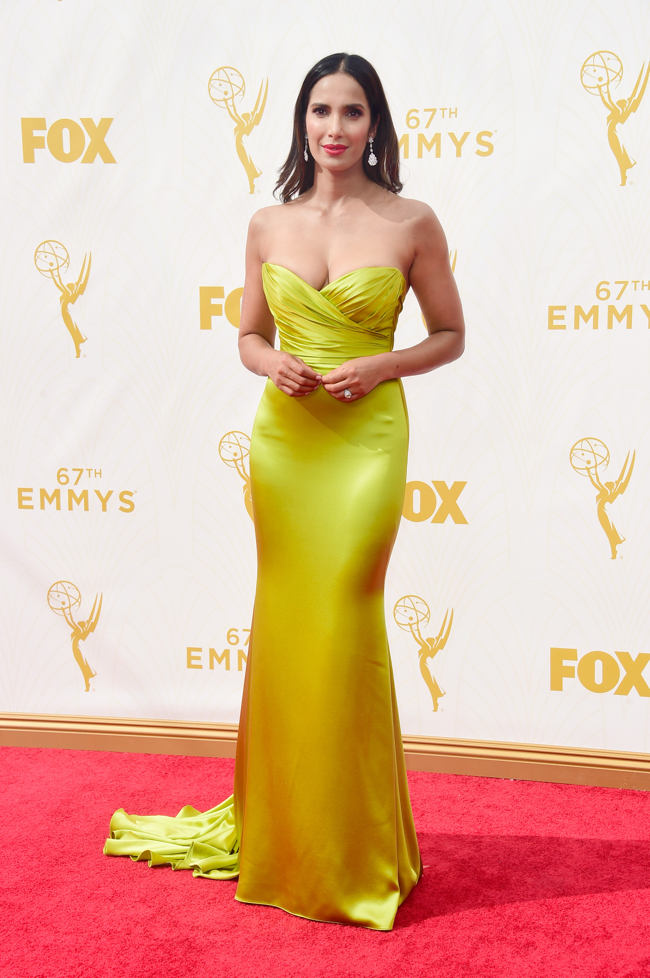 Worst: Joanna Newsom stands with Ahmed in this clock-like design, but she must not have planned this statement. This Delpozo gown pairs a structured mini-dress atop chiffon leg drapes. This the Emmy dresses as postmodern art.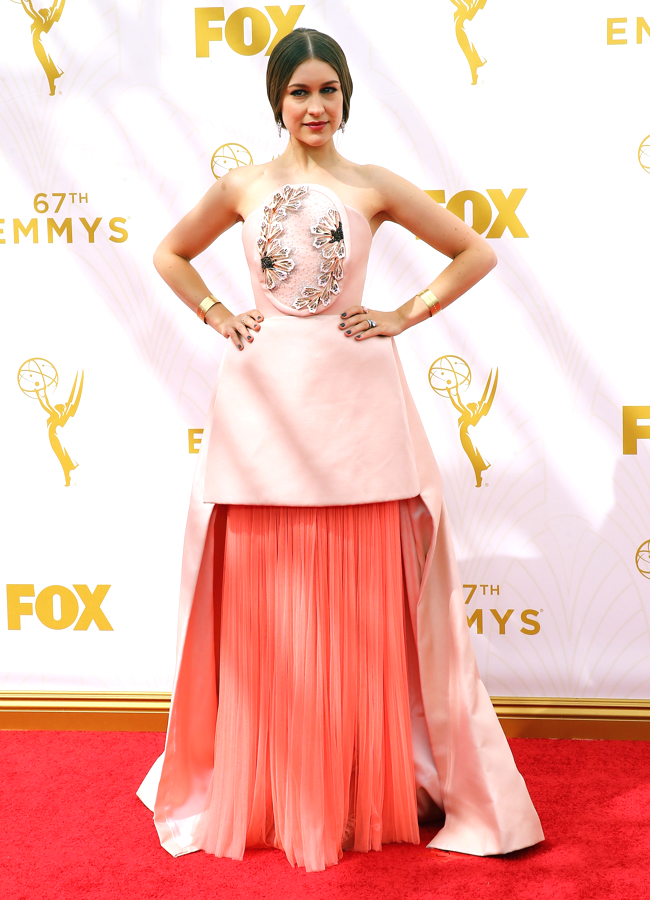 Best: Cat Deeley hit it out of the sultry ballpark with this metallic Monique Lhuillier column gown. Deeley brought the glamour and still managed to look effortless. Her loose waves perfectly accentuate this gown's laid-back but still fabulous presence.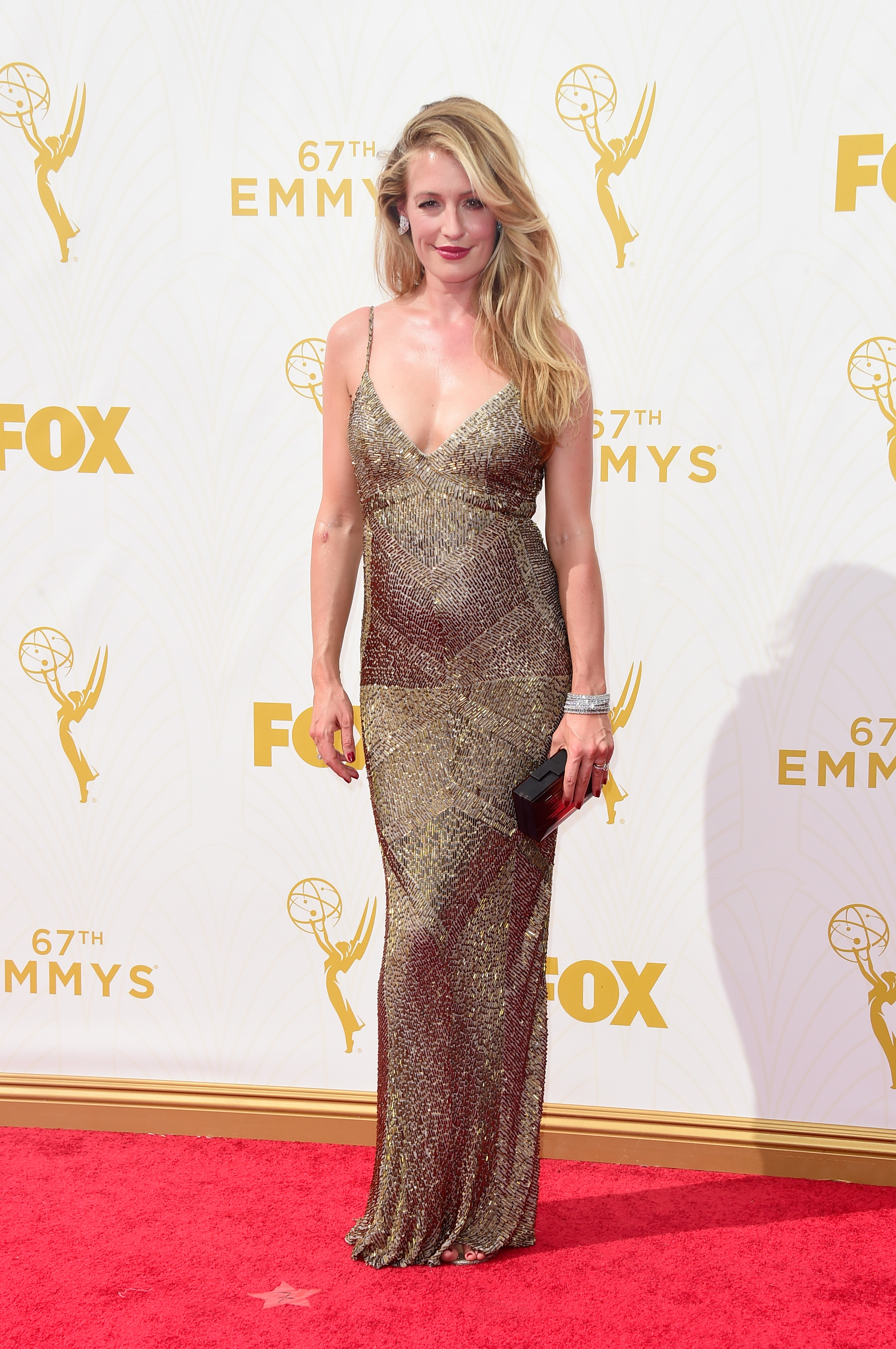 Worst: January Jones generally chooses well on the red carpet, but this Ulyana Sergeenko couture ensemble didn't work. This green romper uses one of the label's star-shaped embellishments so popular this season, but the jumpsuit carries no impact.
Best: Elisabeth Moss went bright and bold in hot pink Oscar de la Renta. Despite being a full-on ball gown, the dress is lovely in simplicity. The black ribbon trimming the top of the bodice saves the dress from being too precious.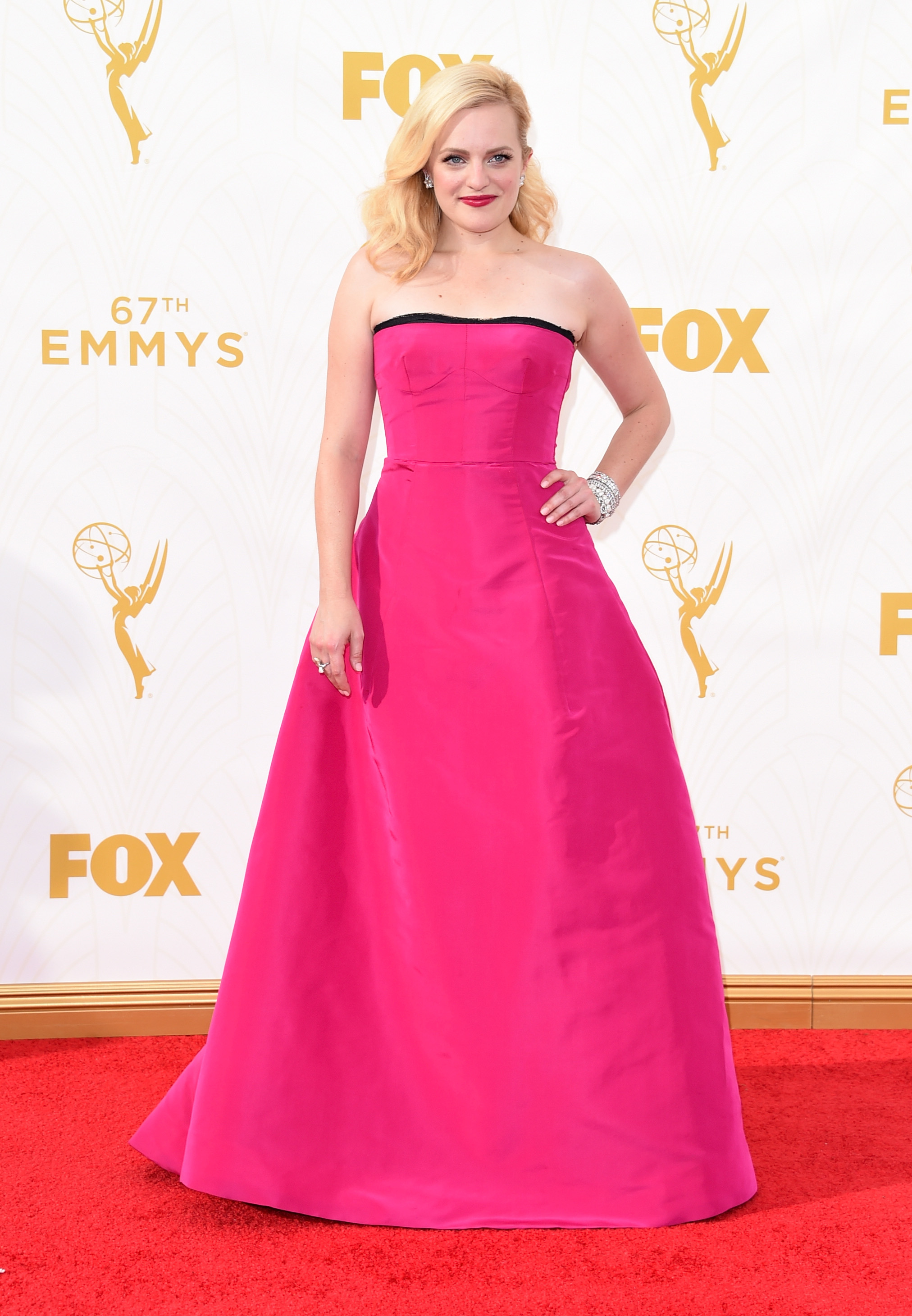 Worst: Danielle Brooks may have worn an expensive kite with this Christian Siriano outfit. She sells this ensemble with as much enthusiasm as she can muster. Still, the dress resembles a multicolored parachute.
Best: Kerry Washington achieved style excellence in this silvery Marc Jacobs dress. From a distance, one could have mistaken the fabric for tightly-spaced chain mail. The contrasting textures throughout the dress are stunning in deceptive complexity. She looks flawless.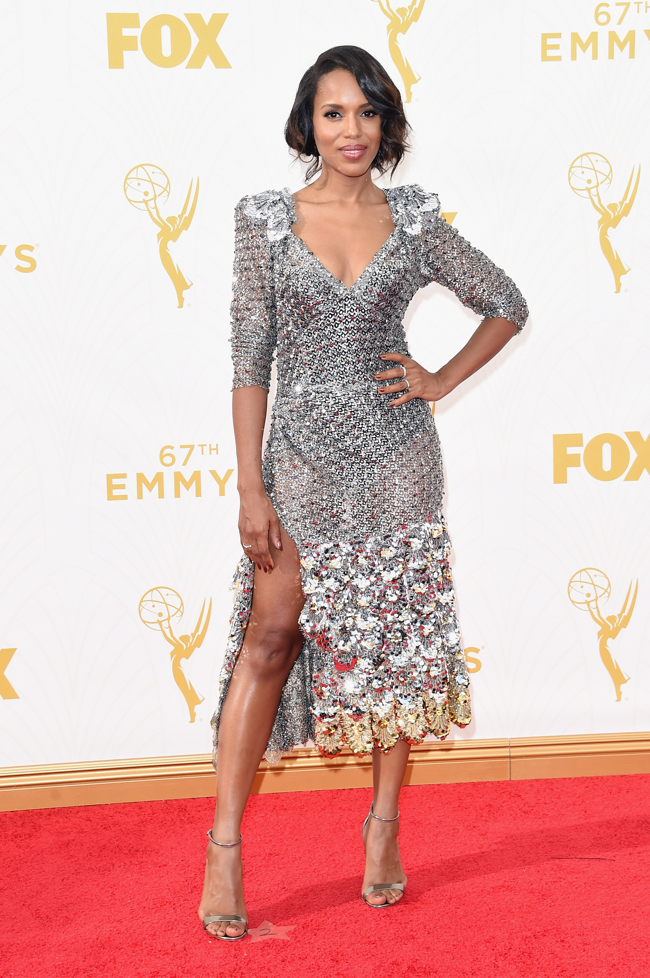 Worst: Tracee Ellis Ross went much too fussy with this tiered pink Zac Posen gown, which resembled either a Barbie cake topper or a fancy saloon girl. This dress would have been okay at next year's spring formal dance.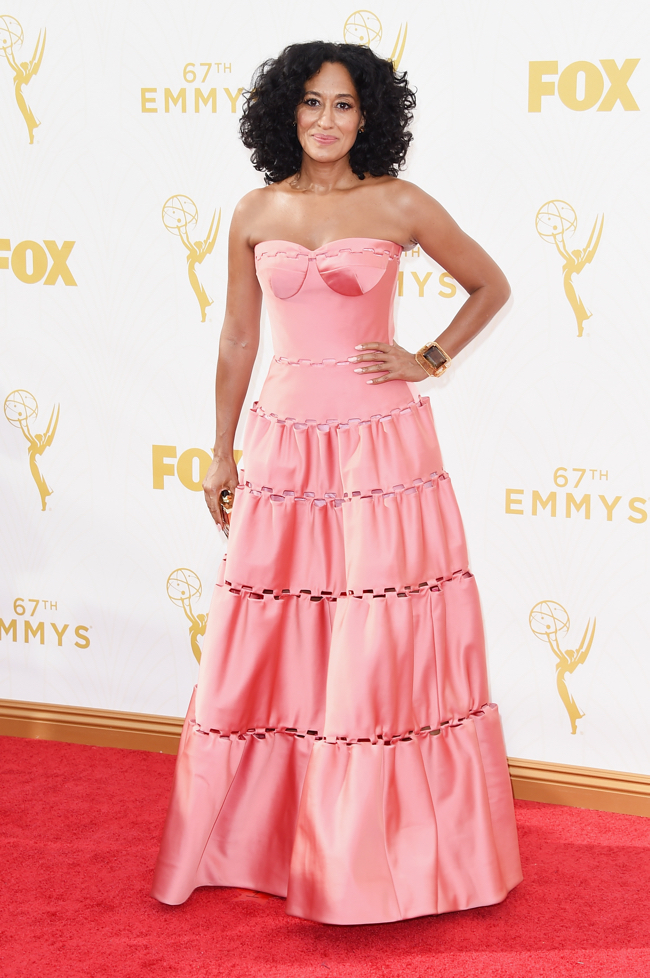 Best: Jaimie Alexander made an unexpected splash in this Armani Prive dress with maximum coverage. Thousands of sequins collided in a colorful set of stripes, and she paired the look with slicked back hair. Many wondered why Alexander covered up so much, but I suspect her Blindspot tattoos account for long sleeves.
Worst: Christina Hendricks chose a tight-fitting Naeem Khan dress with embellished detail. The pattern of this dress takes it into overdone territory. In a solid color, this dress would have been amazing.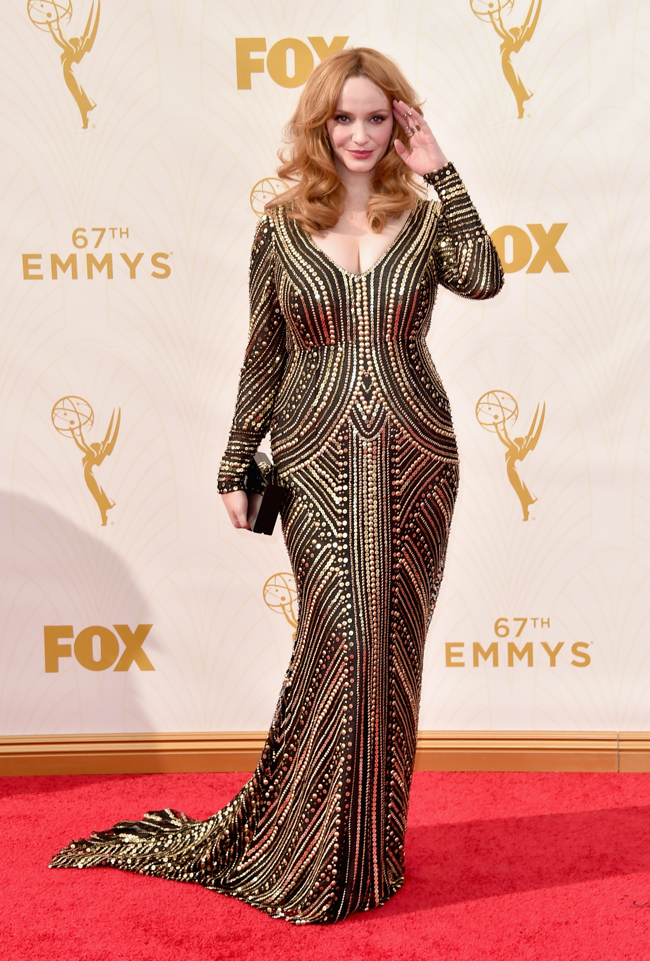 Best: Laura Prepon chose a complex Christian Siriano gown with a jacquard caplet atop a tight, red, fishtailed gown. She went all out with dramatic flair in this dress with asymmetrical hip detail that adds to the effect. Her wispy updo helps play down what could have been an overwhelming dress.
Worst: Maggie Gyllenhaal fared better than usual in this Oscar de la Renta gown. If we measured by Gyllenhaal's usual fashion standards, this would be a hit. Unfortunately, this black bustier with a grape-colored, wrinkly skirt doesn't carry Mags to fashion greatness.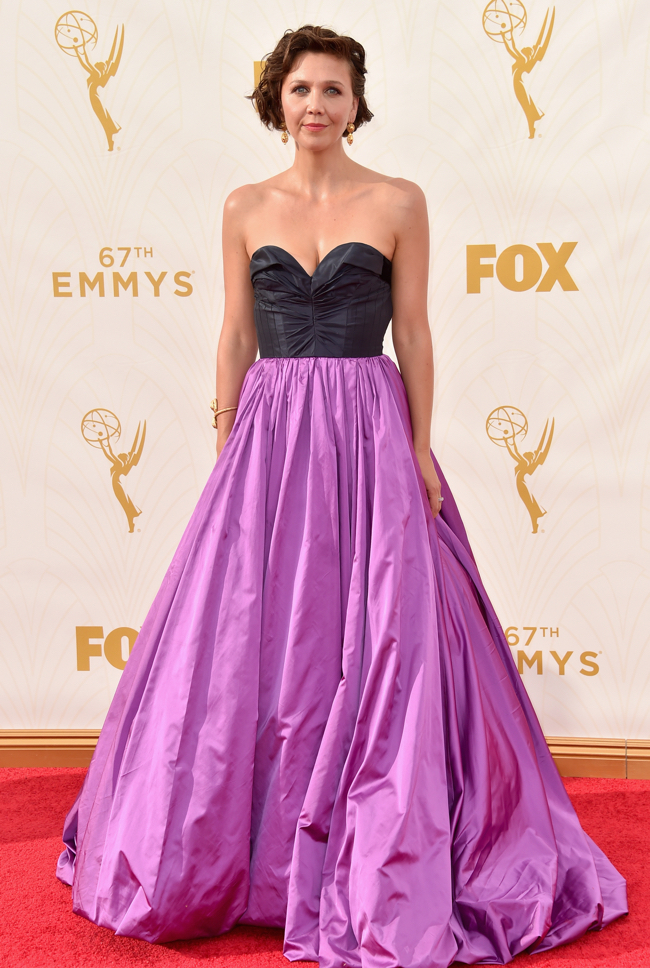 Best: Amy Poehler took the Emmys casually in this Michael Kors Resort with peekaboo detail around the waist. This look was a little sultrier than Poehler's usual selections, and her gamble paid off.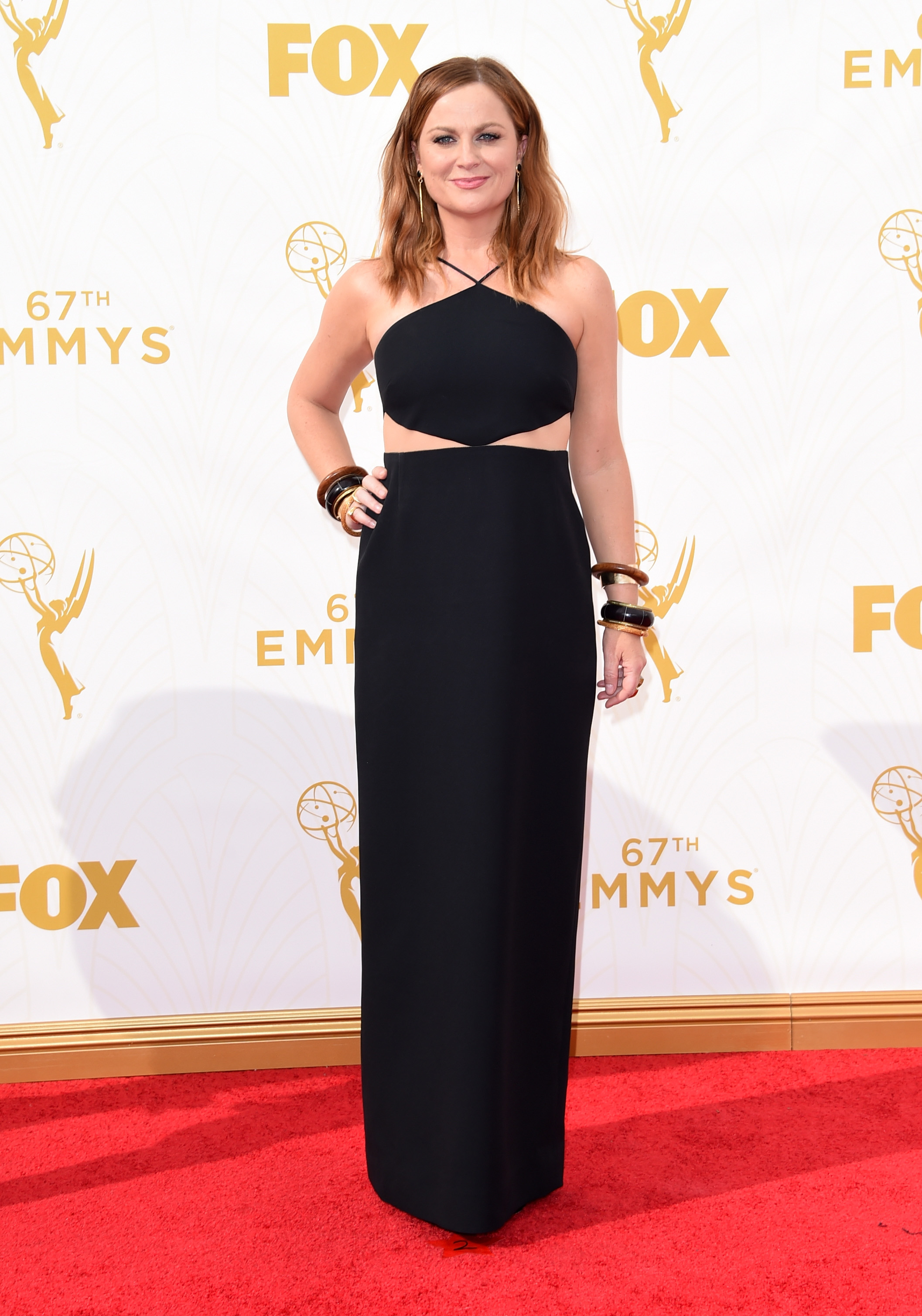 Worst: Lady Gaga wore a drapey, black Brandon Maxwell dress. Many people praised Gaga for going classy, but her somber look feels forced. Inside, Gaga is still the same woman who proudly wore a meat dress to the VMAs.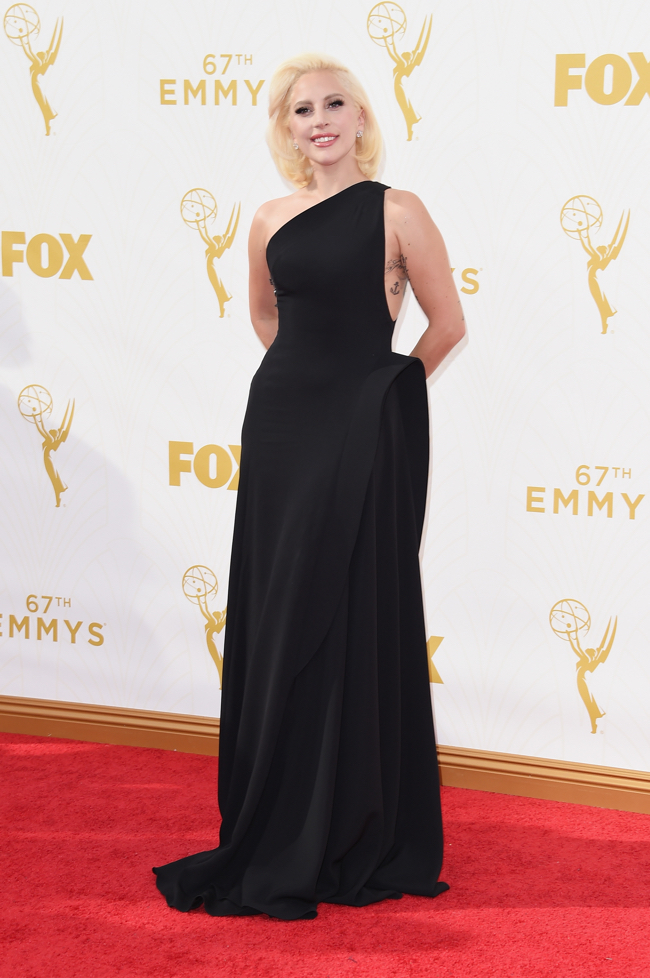 Best: Kiernan Shipka is only 15 years old. Her fashion sense is always age-appropriate and funky. This Christian Dior Couture paired a fun, poufy mini-dress over black pants. She's adorable.
Worst: Nazanin Boniadi wore a one-shouldered, white Stephane Rolland dress. The devil here is in the one-shouldered detail, which throws off an otherwise sleek look.
Best: Amy Schumer wore a teal blue Zac Posen to take home an Emmy for Outstanding Variety Sketch Series. Posen can get carried away with adding too many flourishes, but he did well with Schumer's chosen ensemble.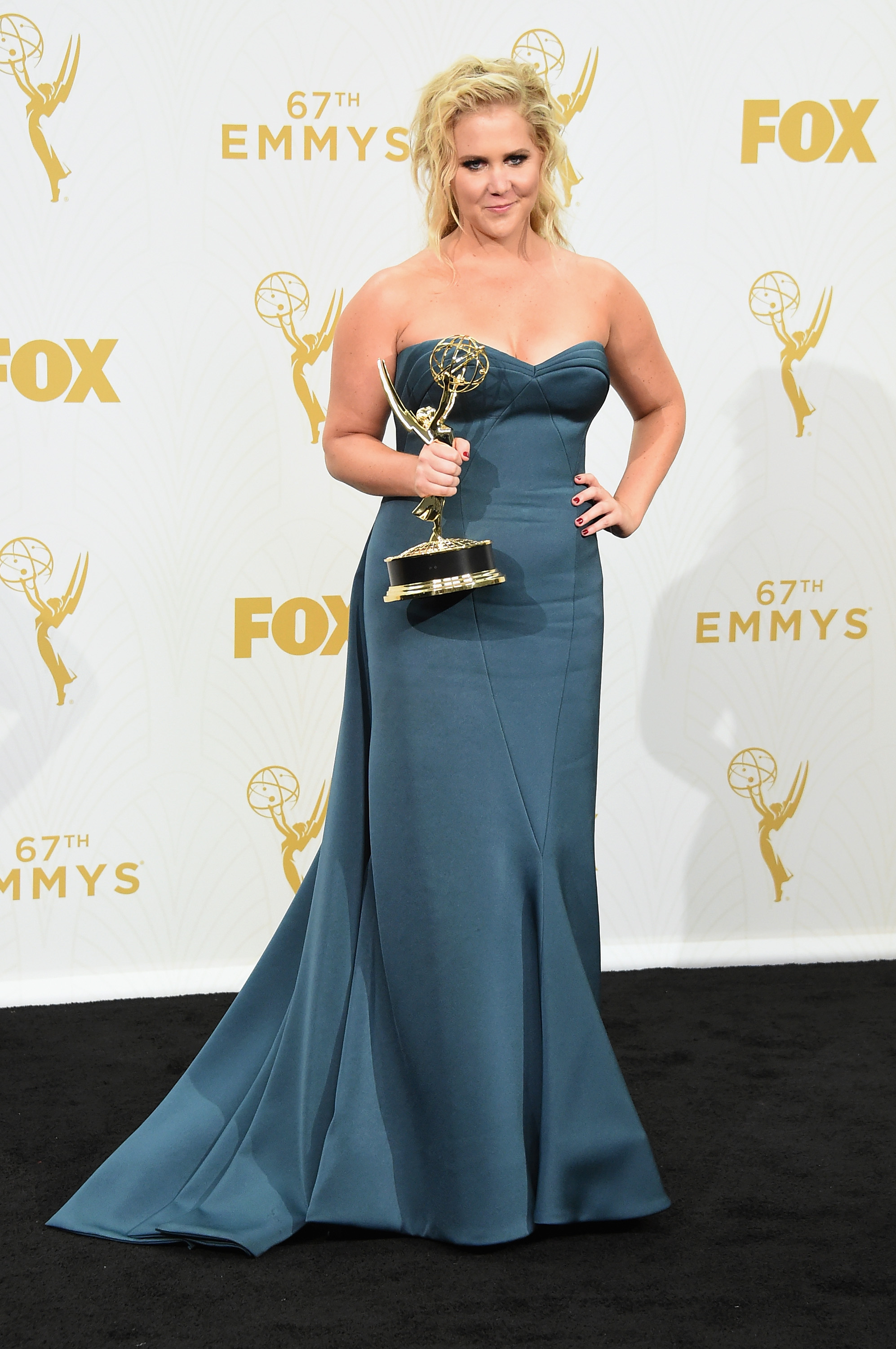 Worst: Ellie Kemper aimed for a colorful optical solution with this Naeem Khan dress, which looked like a 1970s set of curtains. The cut of this dress fits just right, but the pattern overwhelms.