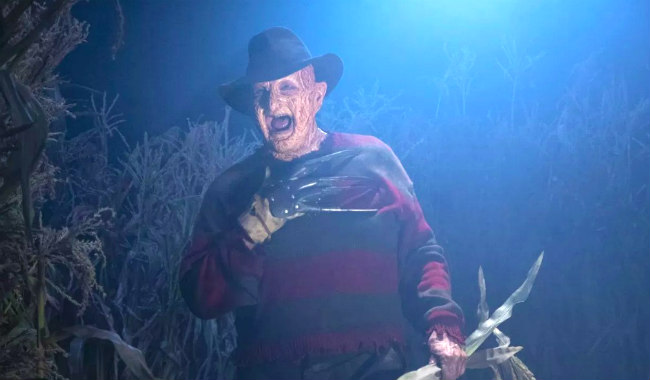 The last time Robert Englund played Freddy Krueger was in 2003's Freddy vs. Jason, a movie we should probably remember to forget exists. So, let's say it was Wes Craven's New Nightmare in 1994, or if you want a film that follows the Nightmare on Elm Street canon, 1991's Freddy's Dead: The Final Nightmare. The point is, it's been awhile since we've seen Englund as the heavily-burnt killer, but the actor will reprise the role (Freddy was played by Jackie Earle Haley in the reboot) in an upcoming episode of ABC's nostalgic The Goldbergs.
In "Mister Knifey-Hands," which airs October 24, Jackie's parents allow Adam to watch A Nightmare on Elm Street, against Beverly's wishes, "and a disagreement between the families ensues," according to the episode description. "But Beverly dreams of facing off with horror icon Freddy Krueger, which teaches her an important lesson about her son's relationship with Jackie. Meanwhile, Erica realizes she's not as popular as she once was as she starts hanging out at William Penn Academy despite the fact she's no longer a student there." (The Erica story is probably the B-plot, but I hope Freddy is the one who guides her towards the popularity realization. He's a murderer, but he's also a helpful guy… who has a habit of hanging around schools.)
This might be the last time we see Englund as the iconic horror character. He previously admitted that he's "too old to do another Freddy now," which is really depressing. "If I do a fight scene now it's got to be real minimal because I can't snap my head for eight different takes and different angles. My spine gets sore. I can still be mean and scary, but I'm mostly relegated now to sort of Van Helsing roles, old doctors and sh*t." Check out photos from the episode below.