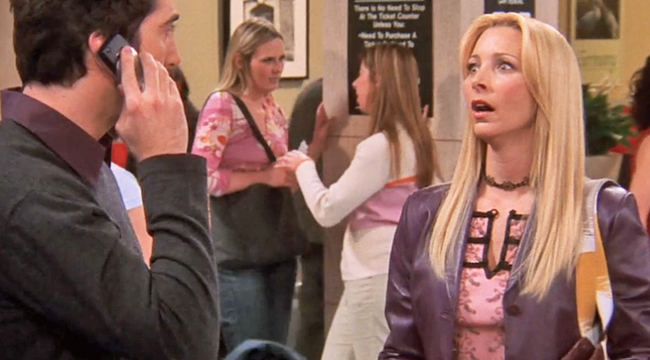 Well, it hasn't been too long since analysts predicted that Netflix would probably soon remove Friends from its library, even though the streaming service plunked down $118 million, or roughly $500,000 for each episode, for a 2015 deal. And now, a low-key confirmation on the show's Netflix page has confirmed that Rachel and Ross will soon once again be "on a break."
Surely, viewers shall survive and simply dig into their queues for another bingeworthy nostalgia pick, but what else are we to make of this development? 2019 is looking like The One Where The Streaming Wars Get Ugly, and indeed, Warner Bros. is soon preparing to launch its own streaming service, which will host several reported DCEU titles with plenty of room for Warner Bros. titles like Friends as well. Barring that possibility coming to fruition (and that sounds like the most likely outcome, honestly), it's possible that another streaming service like Hulu or Amazon might pounce, if they're willing to cough up that price point at the expense of producing more of their own original content.
And that last sentence might point to why Netflix ultimately relinquished Friends rather than re-upping the deal. Clearly, the reigning streaming service is plunging billions into developing countless TV series and films, and at a certain point, such a business model might not be sustainable while also renewing nine-figure licensing deals. So perhaps Friends leaving Netflix isn't at all a sign of a lost foothold in the streaming wars but a signal of Netflix's narrowing focus. Deadline recently revealed that the streaming giant was working toward closing a $2 billion bond that would be earmarked for new content development, which could point toward the long term-strategy for the service to survive the ongoing streaming wars. It's certainly better than churning out a reboot, right?