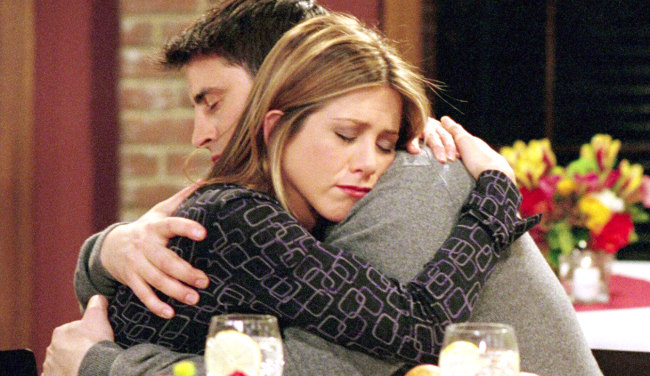 Ever since the series finale of NBC's Friends aired in 2004, fans have been clamoring for a reunion. But time and time again, the cast and creators have attempted to tamper enthusiasm by saying it's not going to happen, to no avail. It's hard to blame viewers: seemingly every once-popular show, from Roseanne to Murphy Brown to Seinfeld to, uh, ALF, has gotten the gang back together.
Friends (and The Simpsons, because it will never stop making new episodes) is one of the reunion holdouts. That hasn't stopped Jennifer Aniston from fantasizing about returning to Central Perk, though. "Before that show ended, people were asking if we were coming back. Courteney [Cox] and Lisa [Kudrow] and I talk about it," the Murder Mystery star told InStyle. "I fantasize about it."
She continued, "It really was the greatest job I ever had. I don't know what it would look like today, but you never know. So many shows are being successfully rebooted. I know Matt LeBlanc doesn't want to be asked that question anymore. But maybe we could talk him into it. Or we just give it some time and then Lisa, Courteney, and I could reboot The Golden Girls and spend our last years together on wicker furniture."
A Friends reunion — which is apparently of interest to some (everyone but Joey) and not to others (Joey; also, maybe Ross, who I hear is not cool) — is the bigger news, but the better show would be this The Golden Girls reboot that Aniston pitched. To paraphrase Valerie Cherish, I DO need to see that!
(Via InStyle)