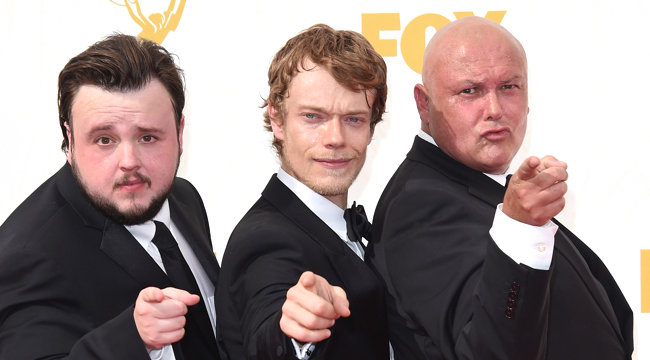 Some sharp-dressed men took the Emmys red carpet by storm on Sunday evening in Hollywood. That is, three stars from HBO's Game of Thrones proved that not all men wish to murder each other in a round of gratuitous television violence. In a highly unexpected turn of events, John Bradley, Alfie Allen, and Conleth Hill each expressed their mutual affection for the cameras.
All men must hug it out. Preferably while wearing fabulous suits and looking like the well-coiffed, dapper gentleman that they are. The swords can wait until tomorrow, for this is a lovely fanfiction that's only missing one key member – Peter Dinklage.
It remains to be seen whether Game of Thrones or any of its actors will walk away with an Emmy tonight. The show is up for Best Drama, Dinklage is up for Best Supporting Drama actor, and Emilia Clarke and Lena Headey are going head to head for Best Supporting Drama actress. As the night pushes forth, some heads will fall by the wayside. The entire affair could very well result in spilled blood, but for now, it's all about the love, the suits, and hugs between co-stars.
Here are some more fantastic photos of these gents.