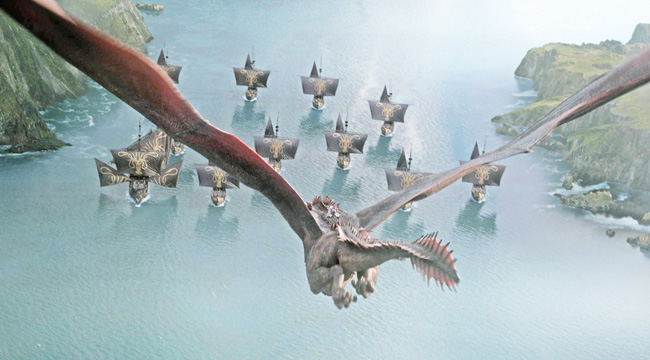 One of several heartbreaking Game of Thrones moments occurred last week when Euron (and his ridiculously big crossbow) took out Rhaegal the dragon. As a result, Daenerys Targaryen has now lost two of her children, which technically makes her the Mother of Only One Dragon. It's not looking good for Northern interests at King's Landing ahead of the series' penultimate episode, but a fan theory suggests hope on the horizon. That is to say, it's conceivable that there might be a secret stash of dragons — possibly unknown even to Dany — lurking in wait for the right moment. Also, it's worth checking out these screencaps of Euron gazing into the sky during the teaser for Episode 5.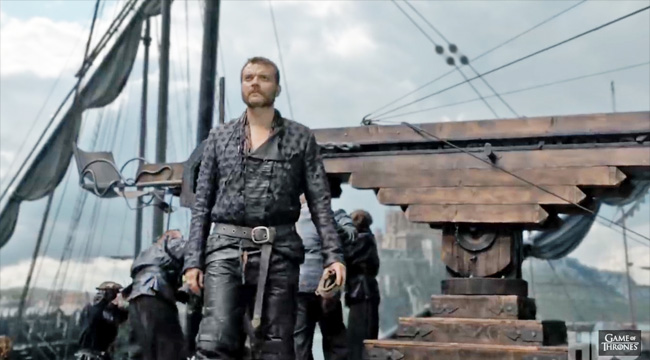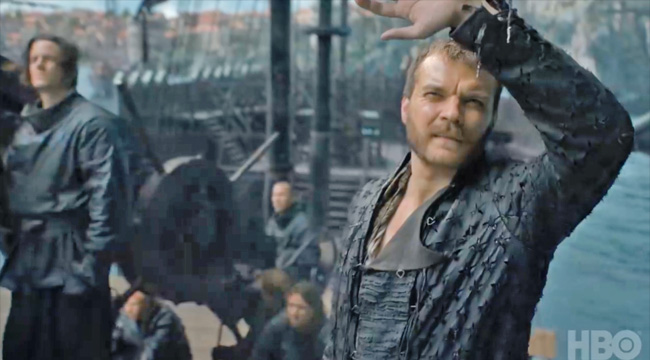 Some folks are suggesting that Euron looks scared. I'm not taking that jump, but his expression is certainly a departure from how we last saw him on the water.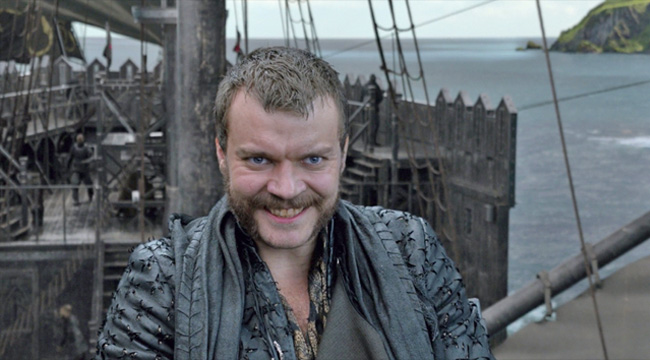 I'll see that face in my nightmares, but more importantly, we need some proof regarding the theory that Euron might be gazing up at dragons. Not simply Dany riding Drogon but maybe her dragon grandchildren as well. Remember when the dragons got all rebellious and teenage-like in Season 4, and Drogon disappeared for awhile? Social media is abuzz with the idea that Drogon was laying eggs, which may have hatched, and the timing would be right for them to be prepped for battle. Yes, this theory is kinda out there, but jeez, this is a show with undead walkers and magical steel and, you know, dragons. Here's another clue, apparently from the Episode 4 opening credits … a gold inscription that shows three baby dragons alongside a larger one.
Could it be true? Missandei's final uttered word, "dracarys" (the term translates to "dragonfire" in High Valyrian), could have been foreshadowing for this event, and Digital Spy dug up a passage from George R.R. Martin's source material that points toward gender fluid dragons, meaning that Drogon truly could have laid some eggs. We obviously won't know what's up until next week, but why not add more dragons to this season? The series couldn't possibly veer further off the narrative path, so let 'em rip, Dany.