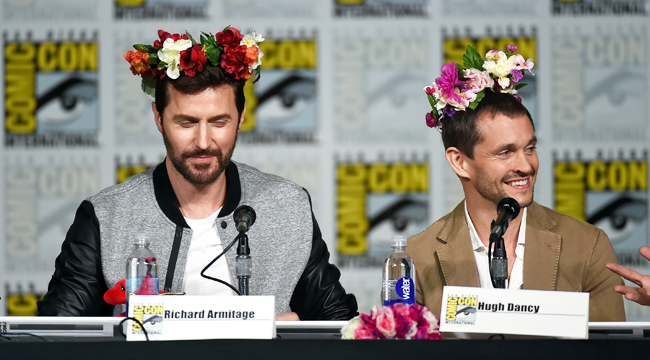 The Hannibal panel at San Diego Comic-Con was an emotional affair, which is what one should expect when a cast promotes a cruelly cancelled show. Hugh Dancy and Richard Armitage wore flower crowns in solidarity with their fandom, which is a nice touch. Not every cast would so willingly embrace an overwrought internet meme, especially in public. At Comic-Con, everything goes.
Showrunner Bryan Fuller waved away boos from the crowd at the mere mention of NBC's cancellation. Both Netflix and Amazon passed on picking up the show, and Fuller himself has other things to do (Starz's American Gods series). Rumors of a movie persist, but for now, this 5-minute trailer will have to do.
The final half-season, which directly adapts Thomas Harris' Red Dragon novel, will jump ahead three years in time with Mads Mikkelsen's Hannibal Lecter out of commission and Hugh Dancy's Will Graham in retirement. The clip features a caged Lecter, as well as shots of Dancy and Zachary Quinto. It also gives an eye-popping look at Richard Armitage as the Red Dragon.