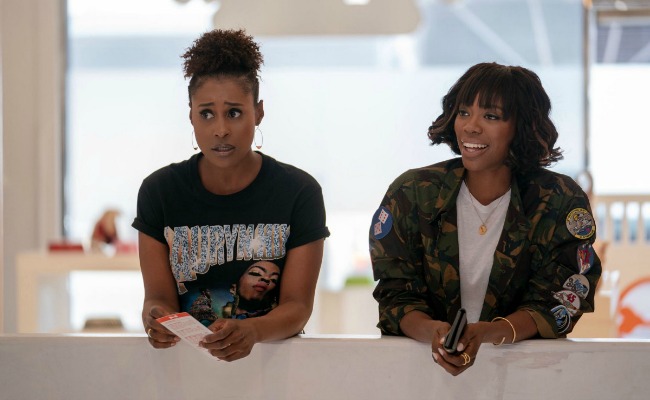 Summer is winding down, but HBO Now is still bringing the heat with a host of new content for users in August. As Succession and Sharp Objects wrap up their first seasons, HBO all-stars Ballers and Insecure return to bring the laughs and the drama to fans. Plus, if you're looking for a new surreal comedy, Animals might be the show for you. If you somehow missed some Oscar contenders from last year, Three Billboards Outside Ebbing, Missouri and Darkest Hour are here for your next highbrow movie night. HBO Now is also getting a whole host of classics including Kiss Kiss Bang Bang, Fargo, and The Fugitive to keep you fully prepared for your next Sunday movie marathon.
Insecure
As she moves on from Lawrence and tries to get her relationships in some semblance of order, Issa continues to glow up on Insecure. Her work life make me a struggle at times, and she may not know what the hell is going on with Daniel, but Issa is determined to keep moving forward. If you're looking for a new show about millennials that is sharply written, well-acted, and cringingly relatable, Insecure will be your new favorite show. With two seasons to catch up on ahead of the August premiere, it's time to see the light.
Ballers
Listen, we could sell you on a sexy, fun show that Elizabeth Warren loves and is full of football, but we all know you're watching for The Rock. The Rock making deals, the Rock wearing suits, the Rock being a baller. Words can't accurately describe that kind of charisma.
Three Billboards Outside Ebbing, Missouri
It's safe to say that Three Billboards was the most controversial film on Oscar night, inspiring a backlash and a backlash to the backlash in the wake of its release. However, whether you agree with the message or not, it is still worth watching and will certainly make you think. Plus, Frances McDormand is one of the greatest actresses of all time, she gives a fiery performance that will not soon be forgotten.
Here's everything coming and going on HBO Now in August:
Series Premieres:
Aranyelet (AKA Golden Life), Season 1 and 2 (8/1)
Animals, Season 3 Premiere (8/3)
Random Acts of Flyness, Series Premiere (8/3)
Hard Knocks, Season 13 Premiere (8/8)
Ballers, Season 4 Premiere (8/12)
Insecure, Season 3 Premiere (8/12)
Series Finales:
Succession, Season 1 Finale (8/5)
Sharp Objects, Season 1 Finale (8/26)
Theatrical Premieres:
Three Billboards Outside Ebbing, Missouri, 2017 (8/4)
Murder on the Orient Express, 2017 (8/11)
Darkest Hour, 2017 (8/18)
Father Figures, 2017 (8/25)
Estrenos:
Mamartuile, 2017 (8/1)
Valentina, 2016 (8/1)
Los Buscadores (AKA Gold Seekers), 2017 (8/3)
Taco Shop, 2018 (8/10)
Starting August 1:
17 Again, 2009
The Blind Side, 2009
Fargo, 1996
The Fugitive, 1993
The Good Lie, 2014
Heaven Can Wait, 1978
The Hunted, 2003
It's Complicated, 2009
Kiss Kiss, Bang Bang, 2005
Land of the Lost, 2009
Murder by Numbers, 2002
New Jack City, 1991
The Nutty Professor, 1996
Nutty Professor II: The Klumps, 2000
Shine, 1996
Super Troopers, 2002
Taxi, 2004
The Terminal, 2004
The Truth About Charlie, 2002
U.S. Marshals, 1998
The Verdict, 1982
Ending August 2:
Storks, 2016
Ending August 31:
All Eyez on Me, 2017
Alvin and the Chipmunks: The Squeakquel, 2009
Austin Powers: The Spy Who Shagged Me, 1999
Back to the Future, 1985
Back to the Future Part II, 1989
Back to the Future Part III, 1990
Big Miracle, 2012
Captain Ron, 1992
Diner, 1982
Everything, Everything, 2017
Final Destination, 2000
Friday the 13th, 2009
Gone in 60 Seconds, 2000
Halloween: Resurrection, 2002
In a Valley of Violence, 2016
Johnson Family Vacation, 2004
Marauders, 2016
Morgan, 2016
Observe and Report, 2009
Pearl Harbor, 2001
Richie Rich, 1994
Sex and the City, 2008
Snatched, 2017
Stick It, 2006
The Adventures of Sharkboy and Lavagirl, 2005
The Final Destination, 2009
The Great Muppet Caper, 1981
The Hitchhiker's Guide to the Galaxy, 2005
The Italian Job, 2003
Tremors, 1990
Tremors II: Aftershocks, 1996
Tremors 3: Back to Perfection, 2001
Tremors 4: The Legend Begins, 2017
West Side Story, 1961
Win a Date with Tad Hamilton!, 2004
Wyatt Earp, 1994