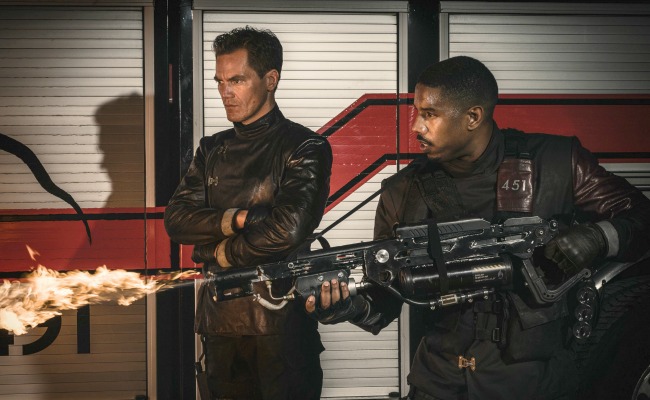 Blockbuster season is rolling into the box office, but sometimes you don't really want to leave your house to be entertained. HBO Now has you covered when your couch potato impulses win out, with a whole host of new content rolling onto the streaming platform in May. HBO is here for you in the original content department, wrapping up comedies Barry and Silicon Valley, as well as the premiere of original films Fahrenheit 451 and The Tale. If sports are more your thing, the documentary Becoming Serena is not to be missed.
Fahrenheit 451
Black Panther's Michael B. Jordan and Michael Shannon are bringing the fire of Ray Bradbury's classic novel Fahrenheit 451 to HBO, depicting a world where media is an opiate, history is reimagined, and books are burned. It will be interesting to see the pre-internet story updated for a more modern age, in a world where content is even more accessible and manipulated.
Dunkirk
If you somehow missed the Oscar-nominated epic, add Dunkirk to your queue immediately. Director Christopher Nolan perfectly captures the horror and claustrophobia of war, focusing on the human stories occurring during one of the most infamous battles from WWII. You may find yourself holding your breath until the final moments, but Dunkirk is worth the stress.
The Tale
As great as she is in Star Wars: The Last Jedi, female-driven character drama is where Laura Dern truly shines. She commands the screen in The Tale, a devastating and arresting tale about a woman who is forced to reckon with the trauma she endured as a teen and how it has affected her into adulthood.
Here are all the titles coming and going on HBO NOW in May:
Original Programming:
A Dangerous Son (5/7)
2018 Rock and Roll Hall of Fame Induction Ceremony (5/5)
Fahrenheit 451 (5/19)
The Final Year (5/21)
The Tale (5/26)
Season Finales:
Barry, Season 1 Finale (5/13)
Silicon Valley, Season 5 Finale (5/13)
Sports:
Being Serena, Documentary Series Premiere (5/2)
Being Serena, Documentary Series Finale (5/30)
Theatrical Premieres:
Wolves at the Door, 2017 (5/1)
Lady Macbeth, 2017 (5/3)
The Lego Ninjago Movie, 2017 (5/5)
Dunkirk, 2017 (5/12)
Patti Cake$, 2017 (5/26)
Fist Fight, 2017 (5/27)
Estrenos:
Hijo por Hijo (AKA Child for Child), 2017 (5/1)
La cordillera (AKA The Summit), 2017 (5/4)
La educación del Rey (AKA Rey's Education), 2017 (5/11)
Asian Pacific American Visionaries Short Film Competition Finalists:
Jiejie, 2018 (5/7)
June, 2018 (5/7)
Remittance, 2018 (5/7)
Starting May 1:
A Sound of Thunder, 2005
Avatar, 2009
Cleopatra, 1963
Dead Calm, 2000
Dude, Where's My Car?, 2000
Eurotrip (Unrated Version), 2004
Garden State, 2004
In the Cut (Director's Cut), 2003
Kill the Messenger, 2014
Maps to the Stars, 2015
The Newton Boys, 1998
Seabiscuit, 2003
Secretary, 2002
Star Trek: Nemesis, 2002
You've Got Mail, 1998
Ending May 31:
101 Dalmatians, 1996
102 Dalmatians, 2000
Bachelor Party ('84), 1984
Daredevil, 2003
The Exorcist, 1973
Fried Green Tomatoes, 1991
Gran Torino, 2008
Ice Age: Collision Course, 2016
John Wick: Chapter 2, 2017
The Last of the Mohicans, 1992
The Shack, 2017
Something's Gotta Give, 2003
Split, 2017
X-Men: Apocalypse, 2016