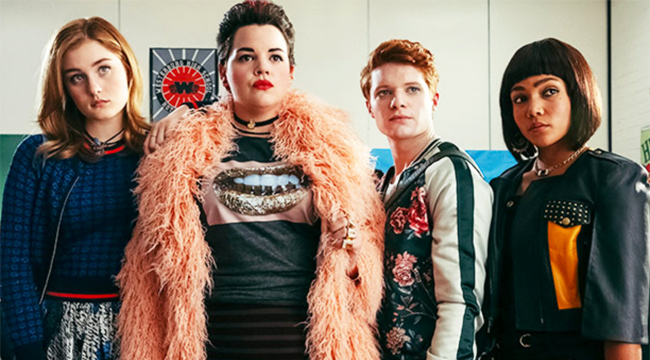 The Heathers TV reboot has been in the works for years, even though this always seemed like a bad idea, given the number of mass casualty massacres (including school shootings) that keep happening. In addition, no one seemed to be clamoring for a replay or even a reframing of the film's satiric treatment of violence that was meant to poke fun at the tidy resolution of teenage problems in many 1980s movies. The reboot has shown no shortage of arrival troubles, most recently when the premiere was pushed back after the Parkland shooting, and now, the Paramount Network has axed the series altogether.
Hollywood Reporter relays word from the network's president of development and production, Keith Cox, who appears to now fully realize why proceeding with this show would be a disaster:
"This is a high school show, we're blowing up the school, there are guns in the school, it's a satire and there are moments of teachers having guns. It's hitting on so many hot topics. This company can't be speaking out of both sides of its mouth, saying the youth movement is important for us and we've done all these wonderful things to support that and at the same time, we're putting on a show that we're not comfortable with … The combination of a high school show with these very dark moments didn't feel right."
Cox does say that he will make efforts to help the reboot find a new home, although it's hard to imagine any network or streaming service that would bite. Recent months even saw writers craft a full second season of episodes, so the stories are certainly there already, if a network takes on the challenge, although it seems unlikely that plentiful teen-on-teen gunfire, explosions, the drano-cocktail trailer moment, and the reference to J.D. as the "domestic terrorist boyfriend" (accurate) would ever fly as 2018 programming.
(Via Hollywood Reporter)