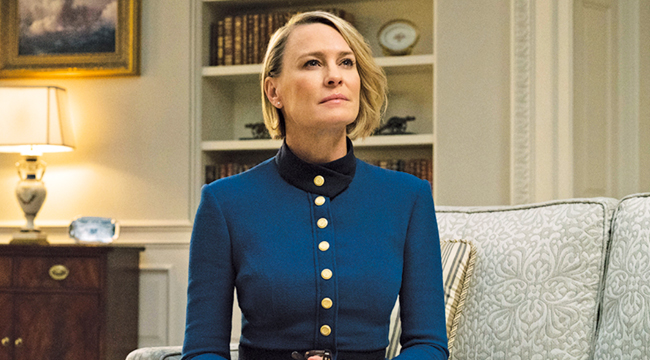 How dead is Kevin Spacey's House of Cards character? So dead that he has a real tombstone. As per The Hollywood Reporter, Netflix has thought way, way outside-the-box on fan service: In honor of the show's sixth and final season, all eight episodes of which dropped on the service last Friday, a real grave was created for late former president Frank J. Underwood.
Underwood is fake-buried in Oakland Cemetery in Gaffney, South Carolina, Underwood's place of birth. Despite being a real cemetery, filled with real bodies and visited by real grievers, officials have played along, encouraging fans — or perhaps even the disgraced actor's many, many haters — to come and get their picture taken with the real faux-tombstone.
Those who wish to pose with the tombstone — which reads that Underwood died in 2017, the year Spacey's long history of sexual misconduct was first exposed — have to do so before November 10, when the cemetery will no longer be open to the public.
We'll do you a solid and not reveal how Spacey's Underwood ate it, though those who wish to know can do so by reading this. Showrunners Melissa James Gibson and Frank Pugliese recently told Vulture that when they plotted how to write Spacey/Underwood off the show, they tragically avoided some of their original ideas, such as having him hit by a train or by an air conditioner, which would have been something.
Gaffney, South Carolina went all out with the death of House of Cards' original main anti-hero. The town's local paper, The Gaffney Ledger, ran an obituary for him, which read, "He will be remembered as a lifelong patriot who would stop at nothing to serve his country." Such undeservedly kind words will surely not be penned for Spacey when he one day passes.
(Via THR)