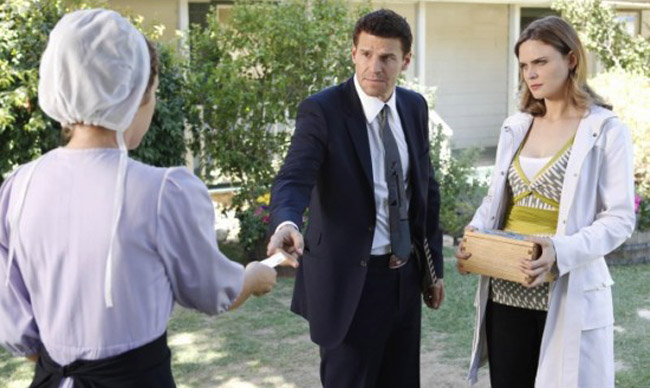 Instinct, the new CBS crime procedural based James Patterson's Murder Games, starring Alan Cumming as an openly gay former CIA officer who helps the NYPD solve crimes, has been accused of ripping off Fox's dearly departed Bones. Sunday's night's episode, "Secrets and Lies," which EW points out is also the name of another show that previously ran on ABC, focused on an Amish teen named Caleb who was murdered after moving to the city.
In the episode, the detectives discovered popsicle sticks and feathers in the teen's childhood bedroom, and somehow that reminded them of piano keys, which led them to discover that Caleb secretly played the piano. During the course of their investigation, they interviewed his piano teacher, who as it turns out, was not the murderer.
Meanwhile, the 2009, season five episode of Bones, "The Plain in the Prodigy," is described as follows:
It was also about the murder of a young Amish man who moved to the big city. In the kid's room back in Amish country the detectives find a collection of rocks. They later realize the rocks look like piano keys and track down the victim's piano teacher.
After social media users began pointing out the overwhelming similarities between the two episodes, Instinct showrunner Michael Rauch took to Twitter to apologize; although he maintains that the comparison was "100 percent unintentional."
Well, thank goodness that's settled. If Instinct should ever feature a fake Guy Fieri victim named "Chili Reuben" however, I'd like to see them try to explain that.
(Via EW)