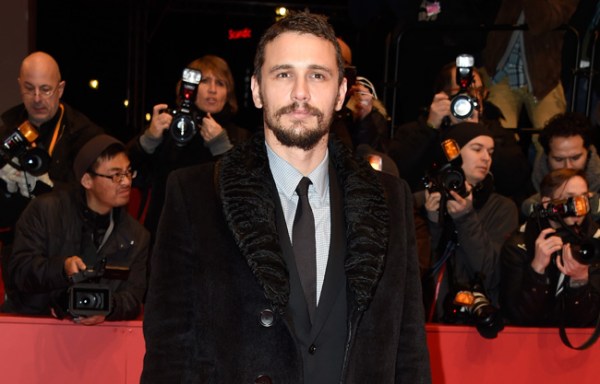 It's hard to imagine anyone other than Dominic Cooper as the electric title character on AMC's latest comic book adaptation, Preacher, which wraps its first season on July 31. But according to executive producers Seth Rogen and Evan Goldberg, they nearly tapped someone else to play Jesse Custer.
During a press conference at Comic-Con last week, Rogen and Goldberg spilled the beans that they had eyed none other than James Franco for the role, but with Franco's packed slate of projects, he wasn't available to commit to a full TV series. And Rogen and Goldberg clearly enjoyed poking fun at Franco's penchant to work seemingly 24/7.
"We had a nice conversation with James Franco at one point," Goldberg told reporters. "He looks very Jesse-ish. He was into it, but just literally he has to make 4,000 things in 20 different formats. It would take up his time and he wouldn't be able to do a Tori Spelling movie or whatever the hell he was going to do."
"[Franco] was dangling from a crane in Venice at the time, so he couldn't work us in," Rogen added. "I think that was even before, that was in a very preliminary phase."
That Tori Spelling movie wound up being a Franco-produced remake of Spelling's infamous '90s Lifetime movie Mother, May I Sleep With Danger? (with a vampire-lesbian bent, of course), and the multi-hyphenate has certainly kept quite busy beyond that, starring in Hulu's miniseries adaptation of Stephen King's 11.22.63, making a cameo appearance in last fall's underrated The Night Before, appearing in a recurring role on TBS sitcom Angie Tribeca, and doing voiceover work on The Little Prince and Sausage Party (probably the only time those two films will ever be mentioned in the same breath). Even a scan of his IMDb page reveals more than a dozen forthcoming projects.
So Franco-as-Jesse was certainly never meant to be, and that's a good thing. According to Rogen and Goldberg — who had been trying to get Preacher off the ground for several years before AMC scooped it up — they'd never really seriously considered their pal for the part, and once they landed on Cooper, he was always their man. With the show already renewed for an expanded second season, it seems like everything worked out for the best.
(Via: SlashFilm)