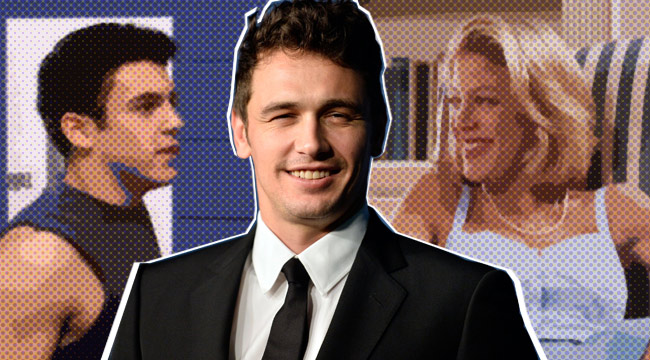 James Franco took the '90s cult classic, Mother, May I Sleep With Danger?, and gave it a lesbian vampire twist. With the new reboot, what was once old is new again in the sexy revamp. Plus, this new side of the story opens up to some interesting discussions about women and relationships, while also having lots and lots of blood. With this new version on the way, we couldn't help but wonder what other '90s TV movies James Franco should give a good old fashioned supernatural reboot too. So… here are a few options for what should be his next project.
No One Would Tell (1996)
This young love turned violent tale starred Candace Cameron and Fred Savage (in their post-sitcom transition phase) as Bobby and Stacy, and it has all the hallmarks of a classic TV movie: high school drama, violent "soulmates," and murder. However, with James Franco at the helm, Bobby, who plays an abusive wrestler in the film, would in fact be a werewolf. Like a dark version of Teen Wolf, Stacy would have to train and defeat her lycanthropic aggressor after their love affair went wrong. Plus, because we're living in a more empowered time, Stacy would put a silver bullet in his abusive head instead of being thrown into a lake.
My Stepson My Lover (1997)
If you don't think this movie is ripe for a mermaid twist, you are sadly mistaken. This cult classic involving inappropriate love affairs, and yes, murder, could easily be James Franco's next revamp. After a nurse (Rachel Ward) gives up her career and her freedom to her new husband (Terry O'Quinn), she finds herself unhappy and alone. However, her often shirtless stepson (Joshua Morrow) is drawn to his new mother figure, and the two start a torrid affair that has a murderous twist. Instead of a nurse, a mermaid could give up her life under the sea for her new husband, only to have him completely deny her true self and imprison her far away from the sea. Her stepson could help her find her fins once again. Plus, he's always half naked and surfing anyway. Having him fall in love with a mermaid is just the next logical step.
Death of a Cheerleader (1994)
This might be the most obvious choice for Franco's next project because it could be a spiritual sequel with the presence of Tori Spelling. Death of a Cheerleader (also known as A Friend to Die For) features Spelling as Stacy, the pretty and popular girl who ends up dead with a knife in her back. Kelly Martin was Angela, the deranged wallflower who put it there on her quest to be noticed, leading her down a dark path she never could have imagined. However, if Angela was a succubus demon who was sucking the life out of her fellow classmates, a new hero would have to rise to bring her down. This could turn into a Buffy the Vampire Slayer-esque tale of demons and the hell that is high school.
Dying to Belong (1997)
Dying to Belong stars Sarah Chalke and Hilary Swank in a harrowing tale of sorority hazing and the lengths that people will go to in order to fit in. After the death of one of their pledges, Lisa Connors (Swank) is determined to find the root of the problem at their sorority. While the issues in the Greek system are still relevant today, how much more interesting would this be with aliens? The upperclassmen are in fact an alien race looking to recruit humans to bring back to their home planet, and their rigorous testing system is proving to be too much for the average girl. Will Lisa uncover this paranormal threat before it's too late, or will she become one of them? Once James Franco remakes this TV movie, you'll find out.
Mother Knows Best (1997)
Just check out the leather pantsuits in that above clip. If that woman isn't already moonlighting as a Blade style vampire assassin, then she should be. Mother Knows Best is about a pushy mom (Joanna Kerns) who first pressures her daughter (Christine Elise) to get married, but then hates the man she chooses so much that she hires a hitman to kill him. In the new twist, good old mom would realize that her daughter's new husband was a vampire, forcing her to take up her long-abandoned family gift for slaying vamps to save her daughter from the nightwalker's clutches.
Check out James Franco's remake of the '90s cult TV movie classic, Mother, May I Sleep With Danger? It airs Saturday, June 18 at 8/7c on Lifetime.