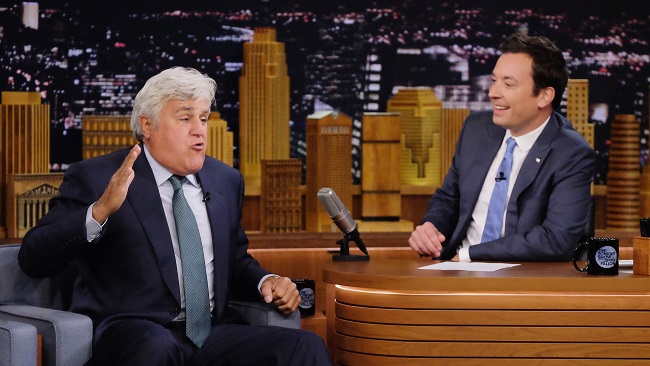 Just over seven years after Conan O'Brien bid adieu to the program, Jay Leno, the former Tonight Show host who preceded both O'Brien and current master of ceremonies Jimmy Fallon, will return to the program in April. Why? Because the latter is filming almost a full week's worth of shows in Orlando, Florida to promote Race Through New York Starring Jimmy Fallon, a new attraction at Universal Studios.
According to People, Leno joins a rather large assortment of guests whose names include The Fate of the Furious' Vin Diesel and Dwayne "The Rock" Johnson (but not together), Shaquille O'Neal, Scott Eastwood, Pitbull, Blake Shelton, Nicole Richie, Flo Rida, Jason Derulo and Ty Dolla $ign. Basically, a lot of famous people are coming to The Tonight Show's Orlando visit, though Leno's appearance on Thursday's program will coincide with the aforementioned ride's grand opening.
Leno has appeared on the program several times since Fallon took over in 2014, be it as an invited guest, a replacement guest, or to deliver the monologue. O'Brien, on the other hand, has not, and since Conan's production is based across the country in in Los Angeles, it's probably a good bet he won't be waiting in the wings with a backstage pass and a Nerf gun. Whether or not Fallon and Leno take part in the ride's inaugural circuit (a la Kevin Hart's frequent, scream-filled roller coaster rides) remains to be seen, though footage of a scared sh*tless Leno wouldn't be the worst thing.
(Via People)