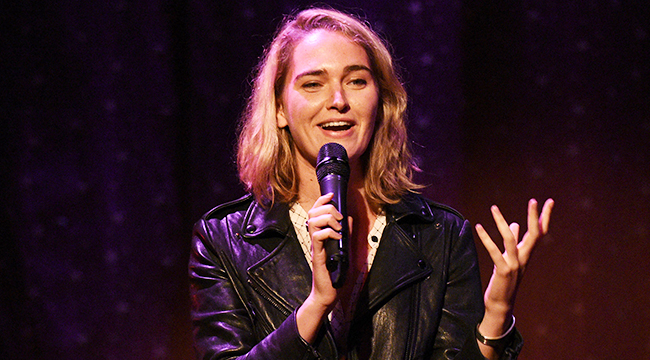 Hopefully, this isn't the first time you've heard of Jena Friedman. The former Late Show with David Letterman writer and The Daily Show field producer's work has been seen by millions of people, but it didn't always brazenly advertise her name. In 2016, however, that changed when NBC Universal's short-loved Netflix competitor Seeso premiered Friedman's first original stand-up special, American C*nt, to critical acclaim.
Enter Adult Swim, which brought Friedman on in May 2017 to produce a new comedy special in which she would "probe" America. Little else was heard about her project until earlier this month, when the late-night alternative network announced that Friedman's new show, Soft Focus with Jena Friedman, would air Sunday, February 18th at Midnight. To explain the concept behind the program, as well as her current plans for distributing American C*nt and a potential new comedy special, Friedman spoke with Uproxx about these and more — like whether or not the volatile topic of campus rape can ever be funny.
Before digging into Soft Focus, I wanted to ask you about your plans with American C*nt. The album version is available to stream, but without Seeso it doesn't have a single home. I don't think there's anywhere we can actually watch the special. Any plans to release it on DVD, CD, or vinyl?
I could release a vinyl of it. I may do that at some point. It's available on iTunes right now. I thought about maybe putting on YouTube even, but I really like the idea of people listening to stand-up more than just watching it. The fact that it's available on Spotify, iTunes, and Google seems to work just fine. And then there were a few moments where I was like, "The fact that Republicans might not exist once the special airs…" That's just so heartbreaking. And it's probably already out of date, so I don't want to give people PTSD.
Who knows? For all we know, maybe nothing will matter anymore in a month. Maybe the jokes will still work just as well. At least I think they do.
That would be great. I mean, nothing matters now it seems. It's a really interesting position we're in right now.
So how did Soft Focus come about? Was this something you brought to Adult Swim, or did they reach out to you?