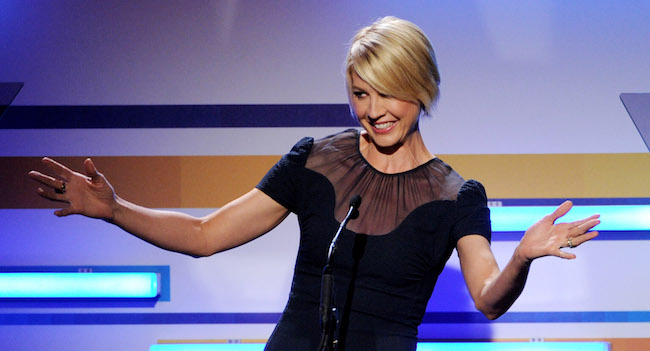 Fear the Walking Dead will see some big changes in its upcoming fourth season. First, showrunner Dave Erickson is departing the series. Then, word came that massive Walking Dead fan (and someone who really wanted to be cast as Negan) actor Garret Dillahunt will join the show. Now, in a flurry of "wait, what?" Jenna Elfman will also join the cast.
The show needed some fresh blood with everyone either dying or possibly dying in season three. According to the Hollywood Reporter, the show is on the move and setting up big things for both shows in the Walking Dead universe.
Sources say Fear the Walking Dead is also moving its filming location to Texas — a move that was set up in the finale's narrative as a new villain (Ray McKinnon) set sail for "what's left of Houston" with Alicia (co-star Alycia Debnam-Carey). That also opened the door for the upcoming crossover with the flagship drama, as speculation swirls that Michael Cudlitz could reprise his role as Abraham. (The character, killed off of the original series in season seven, would still be living in Houston with his wife, son and daughter during Fear's timeline.)
Nothing is known yet about either actor's role. Elfman's latest television show, Imaginary Mary, was canceled this year after one season.