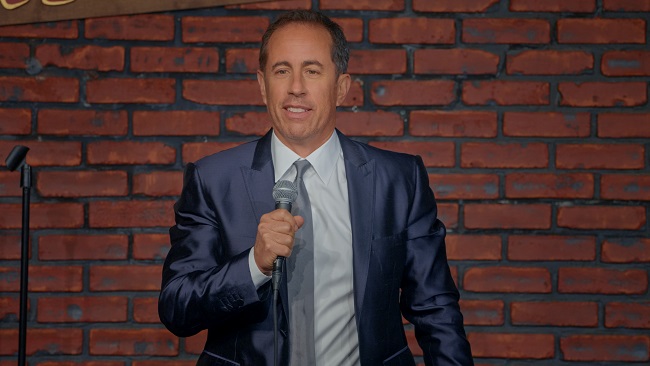 Jerry Seinfeld is no stranger to lawsuits. Back in 1998, he was sued for $100 million by his childhood friend, Michael Costanza, for slander, libel and unauthorized use of his name, likeness and persona after he accused Seinfeld of basing the character played by Jason Alexander, George Costanza, upon him. In 2007, he was sued again by a team of Swedish animation students who had pitched an idea about a bee movie to Dreamworks in 2000.
More recently, Seinfeld was sued for allegedly stealing the idea for Comedians in Cars Getting Coffee. This latest lawsuit comes from Christian Charles, who has collaborated with Seinfeld for nearly 25 years. In fact, Charles directed Seinfeld's American Express commercials. He also directed the 2002 documentary Comedian, featuring Seinfeld, Chris Rock, and Gary Shandling.
Charles claims that, around the time he was directing Comedian, he pitched an idea to Seinfeld for a show called '67 Bug, with the alternative title Two Stupid Guys in a Stupid Car Driving to a Stupid Town. Seinfeld originally rejected the idea, but Charles claims that in 2011, he and Seinfeld began developing the same show and that Charles eventually directed a pilot for a show called Comedians in Cars Going for Coffee. Initially, according to Charles claims, Seinfeld abandoned the project, but then later warmed up to the idea. Locations were scouted, and guests were discussed. Charles even directed the pilot episode. However, according to Charles, the deal fell apart over money in 2012. Charles claims that he was the creator of the show, while Seinfeld claims that he "worked for hire" on a show that Seinfeld created.
The project went ahead without Charles, who eventually brought suit against Seinfeld after Netflix purchased the rights to the series for $100 million.
The lawsuit remains pending, but as Comedians in Cars Getting Coffee approaches its 10th season, Jerry Seinfeld seems to be unfazed by the pending litigation, as he told ABC News. He seems bothered only by the fact the lawsuit is being filed by someone he knows. "It's unfortunate when it's a …friend, and they decide to go for the money instead … That's not the nicest moment, but I'm used to it."
Seinfeld contends that he came up with the idea while shooting his short-lived series, The Marriage Ref.
It really started when I was doing the show called "The Marriage Ref," which we came up with about 10, 11 years ago and it was celebrities trying to help regular people with their marriage. And so, we were shooting these things and we made a few of them. And I found that I could edit the conversation to make it funnier, that I could go into an edit and I could take 20 minutes of conversation and make it 20 minutes that was just OK and make it 10 minutes that was really funny.
It doesn't sound like Seinfeld is terribly worried about the lawsuit. His attorney filed a motion to have it dismissed, claiming that Seinfeld was the sole creator of this show. "End of story." Some legal experts, however, believe that there might be some validity to the suit and that Seinfeld may ultimately have to settle.
(Via ABC News)