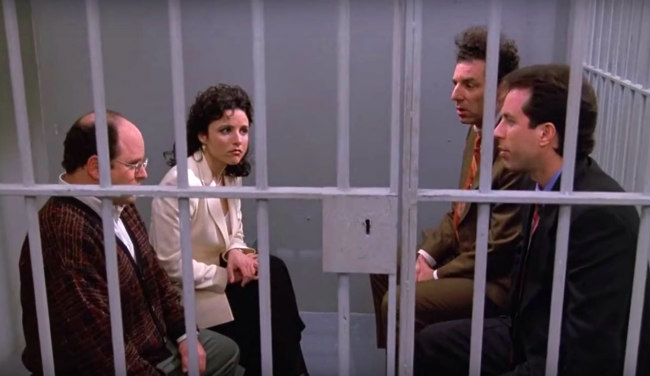 In another timeline (one where nothing is the darkest because NBC is still the ratings king), Seinfeld never went off the air and is about to enter season 29. Hey, it worked for The Simpsons… But in our actual timeline, creator Jerry Seinfeld ended his eponymous sitcom after season nine, even though Seinfeld was still the highest-rated show on TV and NBC offered him $5 million an episode, or $100 million for the full season. The Comedians in Cars Getting Coffee star has no regrets about turning down that dough, though.
"It was the perfect moment, and the proof that it was the right moment is the number of questions you're still asking me about it," Seinfeld recently told the New York Times. "The most important word in art is 'proportion.' How much? How long is this joke going to be? How many words? How many minutes? And getting that right is what makes it art or what makes it mediocre."
(His bank account is doing just fine without that extra $100 million.)
Seinfeld reruns are never not on TV, but if Jerry sees an episode while he's flipping through channels, he'll continue browsing. "I think there's a level of focus you need to get something to a certain point creatively, and you pay a price for that, which is you can't ever look at it again," he explained. Except for Bee Movie. He probably falls asleep to that one every night.
(Via the New York Times)