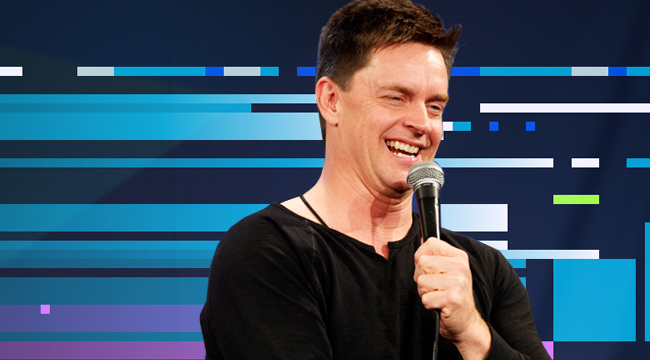 Jim Breuer will always be associated his time on Saturday Night Live in the late '90s, which gifted comedy fans with his "Goat Boy" character and The Joe Pesci Show sketches. But it's not like the 49-year-old stand-up comic is trying to distance himself from that time, Dave Chappelle and Neal Brennan's stoner comedy Half-Baked, and other cherished projects from his past. Hence why he agreed to host the Stars of Saturday Night film marathon on HDNet Movies, running through March 31st on AXS TV's sister channel. (Half-Baked didn't make the cut, though Breuer and fellow SNL alum Will Ferrell's appearances in Dick did.) The event includes countless comedy classics — new and old, cult and otherwise — whose casts feature former SNL cast members and frequent SNL hosts.
We spoke with Breuer about the SNL-themed movie marathon — among other things — during a brief break in his rigorous touring schedule. With his previous stand-up special, Comic Frenzy nearly two years behind him, the comedian has big plans for what his next hour will look like.
You're hosting HDNet Movies' SNL film marathon. Did you help out with programming, too?
No. Programming was already set and all that. They reached out to me and asked if I would host and I said, "Yeah, I'd definitely love to host that, it sounds like a lot of fun."
SNL has had a weird time as of late. Have you been keeping up with it?
I'm not going to lie to you. I'm very family oriented, and I've been touring constantly for last eight or nine years. Do I always keep an eye on it? Yeah, because it's like my own neighborhood, so I'm always rooting for my old neighborhood. I honestly think it's been launching more and more stars since I was there been there. Will Ferrell, and after Will it seemed like the next cast with Tina Fey, Jimmy Fallon and Jason Sudeikis exploded. Even with the show's current cast, the women are pretty powerful. It seems like it's still rocking to me, but like I said, I'm not able watch every new episode.

You said you've been touring a lot. Are you preparing a new hour?
I already have my next hour. Now I'm just figuring out when I want to film it. For my next one, I'm actually working on a musical one man show type of thing, where it's storytelling mixed with music — especially rock music. It'll be a one man show that goes through the story of my life, dealing with family and being famous at the same time.
I'm hoping to launch it no later than June. I'm putting all the film pieces together right now, because there will be projectors and all that during the show. We're filming everything for that in the next two weeks. It's a bunch the stuff, actually. Then we'll pick a date and, hopefully, knock it out no later than June.
I talked to Bo Burnham about how complex using prerecorded material in stand-up is. Especially since it's something you cannot immediately retool, should the audience hate it.
That's exactly what it is. But at the same time, I like being in control. Then I don't have a problem with the failure. If it goes up there and doesn't do as well as I thought it would, that's perfectly fine. I just tell myself, "You know what? That's all right. I swung for the fences and I'm okay with striking out. I knew I came up her to hit that ball out."
Then I have no one else to blame, you know? I can't say, "You know what? I shouldn't have used that editor. I shouldn't have listened to that guy's idea. Why'd I let them write that? Why'd I let them control that?" When I'm in total control of what I'm putting out there, I feel a hundred percent confident in what I'm doing.
We're going to see you singing your heart out with Judas Priest lead singer Rob Halford on Comedy Central's The Comedy Jam soon. What was that like?
It was very surreal because, to be honest with you, that's what started my whole life and career. It was such a big part of my life as a teenager. Their song, "You Got Another Thing Comin'" was my national anthem from when I was 16 or 17 years old until long after. That's when I decided I was going to be an entertainer, and figured out I wanted to become a stand-up comedian. Back then I knew my family lived in a blue collar world, but listening to Judas Priest and that song helped me figure out what I was going to do for the rest of my life.
That opened the door to the music I listened to. To this day, every time I hear that song, it's like hearing it for the first time again. It's like that first girlfriend, that first kiss. You know, the one you still have feelings for. So to be able to go on The Comedy Jam and sing it, and tell this story, is fantastic. When they asked me to do it, I said I would, but only if I could do it with Rob Halford of Judas Priest. I wanted to sing "You Got Another Thing Comin'" with the man himself.
When he agreed — I know it sounds crazy, but I've met him a bunch of times, and even interviewed him once — seeing him with his full blown outfit on made me feel like a teenager again. Like, "Oh my gosh, what am I doing here?" I've worked with Robert De Niro, Jack Nicholson, Joe Pesci, Tom Hanks, and Metallica, but this? This was one of the coolest feelings I've ever had in my life.

It's a fun show.
It's freaking cool. And the way I am on that stage, that's the way I am in real life. I don't care what you think of me. That is who I am. Some people think it's stupid or whatever. I don't care. You don't understand. I still get to enjoy life, and that experience gave me so much enjoyment. I loved every second of it and I don't care what the reaction is going to be.
I can just picture a teenage Jim Breuer with Judas Priest album cover art all over the bedroom wall.
I did. I had the black velvet version of Screaming for Vengeance up on the wall. I also had a denim jacket, which they forgot to hand me while we were filming. At The Comedy Jam, I had this denim jacket with a Judas Priest album cover painted on the back that I've had since high school. They were supposed to hand it to me while we were filming and they forgot, but my adrenaline was pumping so much, I totally didn't realize they'd forgotten. So I looked at the cut later, I'm realized I didn't have the jacket.
Seems like it all worked out, though.
It did. That's true.
Speaking of priests, you play one in Kevin Can Wait. I was not expecting that.
I know, right? I don't think a lot of people were expecting that. Although I think I would pull off a really good priest or a good pastor in real life. Though there wasn't much church growing up in my family. I do have faith, though. I have spirituality. The organized religion thing helps a lot of people, to be sure. It's not my thing.
After our first conversation, I knew you were religious about the New York Mets. Ready for April?
I'm ready. I'm ready for my videos and I'm ready for a podcast. I'm going to start podcasting next week on the Mets. It's called Jim Breuer: The Mets and More. I did it two years ago, but this year I'm going to be very loyal to it from beginning to end. It'll probably be a once a week thing, though I do recaps after every single game on Facebook.
I live in a strictly no-Yankees household.
Same here, but with my whole family.