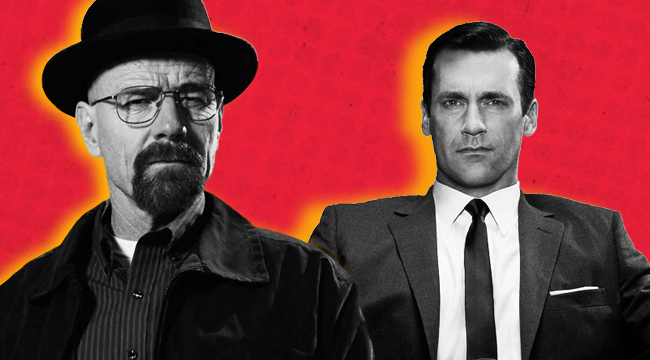 It's nothing short of incredible that the leading men on two of the greatest TV dramas of all-time (if not THE greatest dramas — debate in the comments, Sopranos and The Wire fans) are otherwise best known for roller-skating to Queen's "We Are the Champions" and stealing the scene in every comedy he's in and/or having a large penis. It's a toss-up. For their performances on AMC's Breaking Bad and Mad Men, Bryan Cranston, as meth-making kingpin Walter White, and Jon Hamm, as self-loathing ad man Don Draper, were nominated for a combined 14 Emmys, including five wins (four for Cranston, one for Hamm).
Both actors have also continued to work since those shows ended in 2013 and 2015, respectively, with Cranston returning to Broadway this winter for Network and Hamm most recently stealing scenes in Bad Times at the El Royale.
This isn't Dennis Franz staying out of the acting spotlight since NYPD Blue ended — if anything, their cultural presence is more widespread than ever, now that they don't have to focus their age on two Difficult Men. But who has the better post-prestige drama career? Let's figure it out, based on six distinct categories. (Note: only television shows, movies, etc. that happened after Breaking Bad for Cranston and Mad Men for Hamm wrapped were considered).
My apologies to AMC'S other would-be prestige series Low Winter Sun.
Box office gross (domestic), via Box Office Mojo
As noted above, Mad Men's last episode aired nearly two years after Breaking Bad's finale, so Cranston had a head start. But he didn't shoot out of the gate. Cranston's first post-Breaking Bad movie was the little-seen Cold Comes the Night (only $16,000 at the box office), followed by Godzilla ($200.6 million), at which point Hamm caught up. His "I'm not Don Draper anymore" debut: Minions ($336 million). Who knew banana-loving kids loved Dick Whitman so much? Since then (the end of 2015), Cranston has appeared in 10 films to Hamm's eight (not including Get a Job for the former and Aardvark for the latter; those box office numbers aren't readily available). That makes the totals surprisingly close.
Thanks to Minions mania and the relative box office success of Baby Driver ($107.8 million), Hamm's combined gross is $531,355,492… but it's still behind Cranston's $567,670,604, which is boosted by Godzilla and Kung Fu Panda 3. That's even with his Oscars movies, Trumbo and Last Flag Flying, pulling in less than $9 million combined. Those help another category, though.
Winner: Bryan Cranston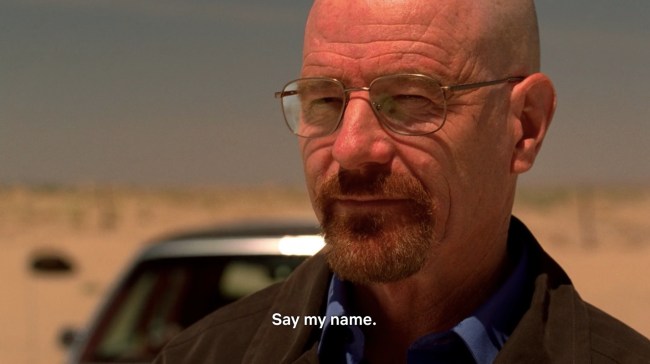 Rotten Tomatoes score
Here's the highest- and lowest-rated Rotten Tomatoes score for each:
Bryan Cranston
Highest: The Disaster Artist (yes, it's just a brief scene where Cranston is playing himself during his Malcolm in the Middle days, but if Hamm's cameo in Absolutely Fabulous: The Movie counts, then so does this)
Lowest: Get a Job (there's a reason box office totals are not accessible)
Jon Hamm
Highest: Baby Driver (93 percent)
Lowest: Aardvark (12 percent; see: Get a Job)
The average rating (using a HIGHLY SCIENTIFIC method of combining every movie score then dividing)? Cranston: 61.6 percent. Hamm: 57.5 percent.
Winner: Bryan Cranston