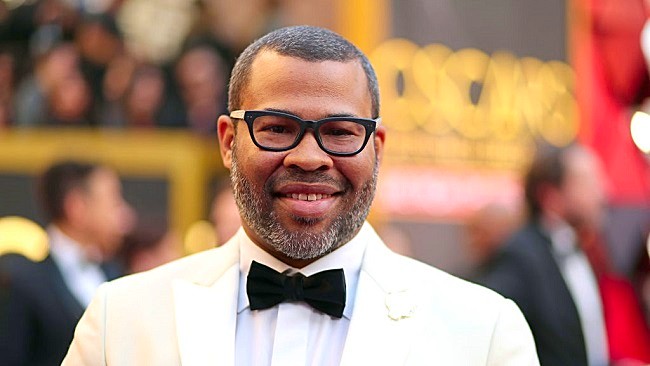 Jordan Peele's a master of horror now, but let's never forget he broke through via comedy. Before Get Out, there was a little show called Key & Peele, plus Keanu, he and Keegan-Michael Key's own underrated movie film that also boasted cinema's cutest ever kitten. It's safe to assume his forthcoming Twilight Zone reboot — much like his forthcoming movie Us — will more or less play it straight. But there's something amusing about the former's newly revealed premiere date: April Fools' Day.
The Wrap helped break the news that April will kick off not only with annoying pranks and a general level of distrust, but also with the first two episodes of the third revival of Rod Serling's classic anthology show. Peele's latest won't be bowing on live television. Instead, it will debut on CBS All Access, as a gift to subscribers of the channel's forthcoming streaming service. New episodes will appear weekly starting on April 11.
Serling's original iteration of The Twilight Zone ran for five seasons starting in 1959. It was revived in the 1980s, a decade after Serling's death, and again for one season starting in 2002 on UPN, with a host in no less than Forest Whitaker.
The original Zone is lousy with famous faces, including cusp-of-legend-status names like Robert Redford, Charles Bronson, and William Shatner. Peele's iteration has already lined-up quite the guest cast, including Jessica Williams, Kumail Nanjiani, Greg Kinnear, John Cho, Sanaa Lathan, Adam Scott, Jacob Tremblay, and Steve Yeun. Peele himself will serve as his show's Serling-esque host
Or will he? Maybe the April Fools' Day premiere is part of an elaborate joke and Peele was never actually planning on rebooting The Twilight Zone with an amazing cast and his own peculiar spin on a show that continues to seem scarily relevant, reminding us that humankind never really changes and keeps repeating the same mistakes ad nauseum. Or maybe the April Fools' prank is that there is no prank and the world is so awful right now that we need a weekly anthology horror program from one of the genre's newest geniuses.
(Via The Wrap)