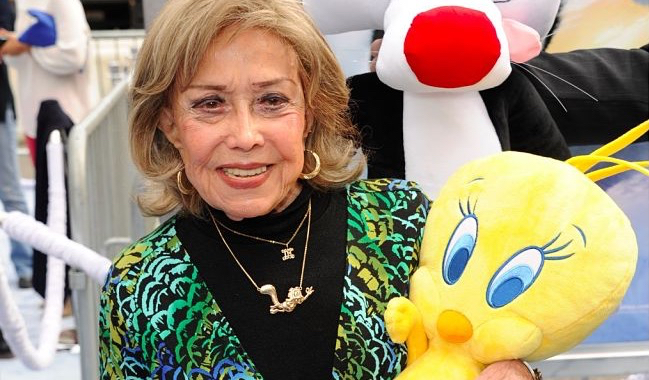 June Foray, who provided the voices for many of the most iconic cartoon characters of all-time, including Rocky the Flying Squirrel from The Rocky and Bullwinkle Show, Cindy Lou Who from Dr. Seuss' How the Grinch Stole Christmas, and Tweety's owner Granny from numerous Looney Tunes shorts, has died at 99. The news was broken by her close friend Dave Nimitz, who wrote on Facebook, "With a heavy heart again I want to let you all know that we lost our little June today at 99 years old." The cause of death is unknown.
Foray's first credited role is the voice of Oswald the Lucky Rabbit in 1943's The Egg Cracker Suite, and over the next seven decades, she never lacked for work. Her filmography is a fascinating journey through animation; you can hear her in Disney's Cinderella and Peter Pan and Mulan, The Flintstones, The Twilight Zone (as the voice of Talky Tina!), Who Framed Roger Rabbit, Space Jam, and Cartoon Network's The Looney Tunes Show. (Naturally, she's even in the season one episode of The Simpsons, "Some Enchanted Evening.") Foray was also instrumental in the creation of the Annie Awards, which recognizes achievements in animation, and the Oscar for Best Animated Feature.
In a statement, ASIFA president Jerry Beck said, "On behalf of ASIFA-Hollywood, of which June was a founder, we are mourning the passing of animation's best friend. She has touched so many lives: with her voice that of so many classic cartoon character, her efforts to create ASIFA, to maintain the Academy's Oscar for Best Animated Short, and her leadership in crafting the category of Best Animated Feature. She was one of a kind. A trailblazer, a great talent, and a truly wonderful person. We will never forget her."
A documentary about her life, The One and Only June Foray, was made in 2013.
(Via Deadline)