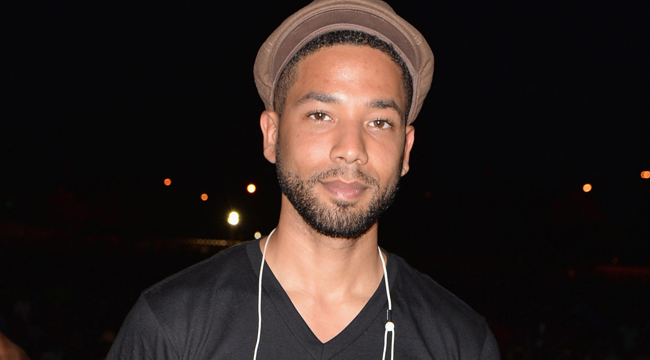 The twists and turns in the Jussie Smollett case don't appear to be over yet. As the Chicago PD continues probing for the truth following the Empire star's claims that he's the victim of a homophobic and racial attack, the FOX series might be pulling Smollett offscreen. That is to say, last week saw reports that police believe that Smollett may have orchestrated the attack with the help of two Empire extras. The actor/singer's lawyers have denied that their client did any such thing, yet conflicting information has led many, including Cardi B, to state that, if he's culpable, Smollett would have "f*cked up black history month."
Allegations of a staged attack are still swirling and will be bolstered by a new Associated Press report about police investigating a tip that Smollett may have been in the elevator (on the night of the alleged attack) with the two men who were questioned and released by police. Deadline now reports that, although already completed Empire episodes won't be modified, the series is scaling Smollett back from his role in the musical dynasty series beginning with this week's production:
Deadline has confirmed with well placed sources that Smollett's scenes in episodes of the Lee Daniels and Danny Strong co-created series are being slashed for production on Empire this week.

While the show is back at work today in the Windy City after the long weekend, Smollett will be a rare presence on the set of the Taraji P. Henson and Terrence Howard led show.
This update follows two days after Empire showrunner Brett Mahoney tweeted that he continues to "believe and stand by @JussieSmollett."
Mahoney hasn't followed up on this tweet, but CNN reports that the two men who were questioned by Chicago police are no longer considered suspects following the discovery of "new evidence" in the case. CNN also revealed on Monday that Smollett currently has no set time to speak with detectives again:
Police say they want to talk to Smollett again. The actor's reps said Smollett would not be speaking to police Monday, and it's unclear when he will sit down with investigators.

"Smollett's attorneys will keep an active dialogue going with Chicago police on his behalf. We have no further comment today," Anne Kavanaugh with Media Pros 24/7 said.
Last week, Smollett insisted that he's remained "100% factual and consistent" in his statements to law enforcement. This weekend, Selma director Ava DuVernay tweeted that she isn't certain whether Smollett lied to police or not, but she won't let the outcome of this case stop her from believing others. "Despite the inconsistencies, I can't blindly believe Chicago PD," she tweeted. "The department that covered up shooting Laquan McDonald over a dozen times? That operated an off-site torture facility? That one? I'll wait. Whatever the outcome, this won't stop me from believing others. It can't."
(Via Deadline)