[protected-iframe id="87e748bc0117819913c89a530597bff3-60970621-60765065″ info="//widgets.ellentube.com/videos/0_z59w9g0a/" width="650″ height="400″ frameborder="0″ allowfullscreen=""]
Way back in March of 2014, Kaley Cuoco got her New Year's Eve wedding date to Ryan Sweeting, 12-31-13, tattooed on her back in roman numerals. Which would have been great and all, except that she and Sweeting split in September of 2015 after less than two years of marriage. In retrospect, the tattoo maybe wasn't the smartest idea, as she confessed during an appearance on The Ellen DeGeneres Show airing Tuesday.
As if it's not hard enough to have a failed marriage under your belt by the time you're 30, having a constant visual reminder of said failed marriage definitely doesn't help, which was why Cuoco had the tattoo covered with a large moth shortly after her separation. When asked why she decided to get a moth tattoo, Cuoco says that the significance is that "it was big enough to cover the numbers." Deep! Ellen points out that the meaning could also be that a moth is drawn towards the light, which Cuoco quickly gets on board with. See? It's a good tattoo after all!
At any rate, while Cuoco says that last year had its "weird ups and downs," she already thinks that "2016 is going to be a much better year than 2015." Just stay out of the tattoo parlors, lady.
Here's what her tattoo looked like before she had it covered up: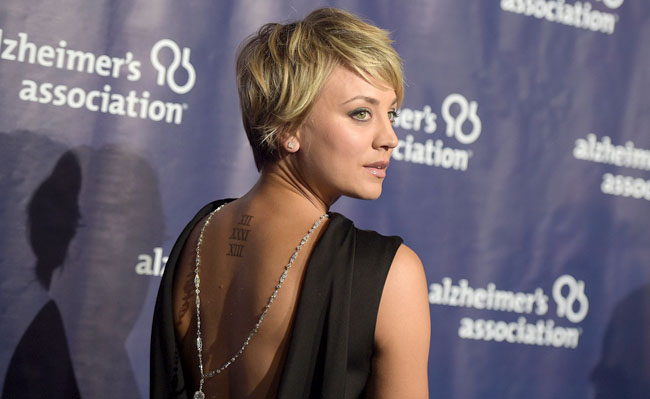 And here's what it looked like in progress and after, compliments of Cuoco's Instagram account:
Now Watch: 11 Texts To Make Things Between You And Your Ex Awkward